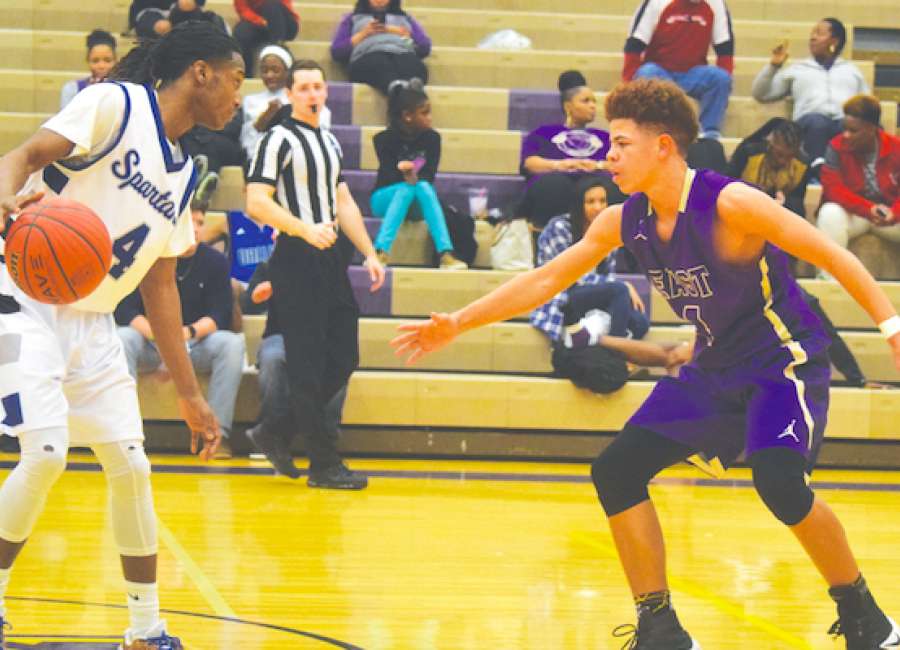 The East Coweta Indians and Lady Indians basketball teams split games against Campbell High during Region 2-AAAAAAA action at John Thrower Gym Wednesday. A rough fourth quarter doomed the Lady Indians while the EC boys persevered in overtime to get their first region victory of the year.
East Coweta 68, Campbell 62, OT (boys): The East Coweta Indians somehow managed to defeat the Campbell Spartans despite missing 21 free throws Wednesday, scratching their way to a 68-62 overtime victory at home.
EC improved to 10-5 overall and 1-2 in the region while Campbell fell to 7-8, 0-2.
This wasn't the prettiest basketball game in history — both teams missed shots and committed a ton of fouls. In fact, the only reason Campbell was in the game is because the Spartans made 34 free throws to EC's nine.
The score was tied at 10 after one quarter and EC held a 25-24 lead at the half. The Indians led 41-35 heading into the fourth and held a 47-42 lead in the fourth quarter before Campbell rallied.
The Spartans went on a 5-0 run to tie the game at 47-all with 3:15 left. Campbell led 56-52 with 13 seconds left, but EC sophomores Rhet Reynolds and Fernandez Jones made huge layups to tie the game at 56-56, sending it to overtime.
With the score tied at 58 early in OT, Campbell turned the ball over on consecutive possessions and the Indians scored on three straight trips (including a steal and dunk from Jamir Williams) to take a 64-58 lead with 1:12 left in the extra session. Both teams exchanged baskets the rest of the way and EC got the 68-62 win.
Williams and Jones scored 14 points each, Brandon Stroud had 12 and Mark Mitchell chipped in 10 points to lead EC, which faces region opponent Wheeler High at 7:30 p.m. Friday.
Campbell 60, East Coweta 38 (girls): The EC Lady Indians made a valiant comeback from a 26-11 halftime deficit, but it wasn't enough to beat the Campbell Lady Spartans Wednesday.
EC (3-11 overall, 0-3 region) cut the Campbell lead to 32-29 with 1:58 left in the third quarter, but Campbell's girls went on a 6-0 run to lead 38-29 after three quarters. The Lady Spartans outscored EC 22-9 in the fourth quarter to win going away, 60-38.
Katie Morgenroth scored 10 points and Aja Manning added 9 for EC, which plays at Wheeler at 6 p.m. Friday.
In other hoops action from Wednesday, the Northgate Vikings fell to the Tri-Cities Bulldogs 62-47 in Region 5-AAAAAA action at Johnny Brown Gym. Perez McLaughlin led Northgate (5-9 overall, 0-7 region) with 19 points and Trey Cook added 15.