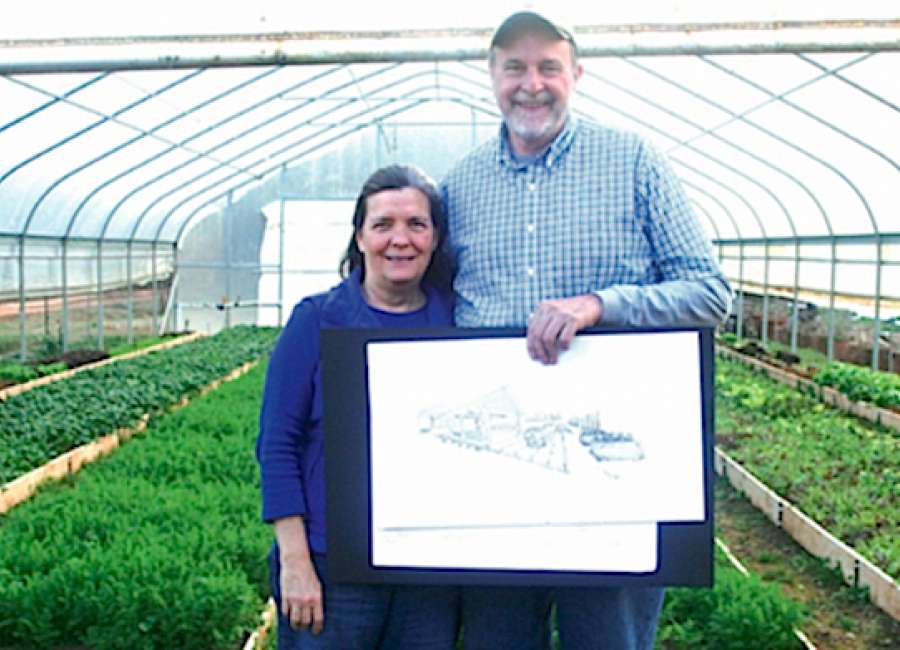 Local farmers and instructors Mike and Judy Cunningham understand the importance of fresh vegetables and knowing how to grow and cook your own food, and the couple has made it a mission to not only supply local residents with fresh produce, but to teach them how to do it on their own.
Growing your own food gains popularity
According to inhabitat.com, a weblog that specializes in tracking the innovations in technology, practices and materials, a study conducted by the National Gardening Association (NGA) shows that food gardening is becoming more and more popular. The "grown your own" movement has gained so much momentum that Americans spent as much  $3.5 billion on their seeds, potting soil, vegetable starts and other food-growing supplies in 2013 – far more than any previous year since the organization began tracking food gardening separately from other types of gardening.
One in three American households now grows a portion of the food they consume.
Creating more space to teach
Although the Cunningham's family farm, Country Gardens Farm on Highway 154 in Newnan, has been used to teach classes, the demand for the classes are growing, which calls for more space.
In November, the couple started a kickstarter campaign to raise $15,000 to fund a teaching pavilion at the family's garden. Kickstarter is an online funding platform for creative projects, but if you don't reach your goal amount within a specified amount of time, any money that has been pledged will become void and will not be charged to the donor, which happened to the farmers who were only able to raise $7,000.
Although the goal was not reached, the Cunninghams were still grateful for the support they received.
"We have a pretty large email list of people who come in to buy," Mike said. "We had a lot of support from our core group of customers, friends and people who knew us."
Mike said the initial plan was to construct the pavilion all at once during the winter,  but now the farmers plan to do the project little by little as money is raised.
"We're taking contributions from people who originally pledged and all the money from our classes and other events will be used to fund the pavilion," Mike said.
Mike said the new teaching pavilion will also feature a wheelchair garden, waist-high garden and other alternatives to build garden beds. Multiple classes are held through the year and usually last close to two hours. The Cunninghams hope to add more classes once the pavilion is complete.
Farming is a Cunningham tradition
The Cunninghams are no strangers to gardening. The couple had a nursery on Lower Fayetteville Road in Newnan for 30 years, but were forced to close because of the economy. Mike said they were selling a lot to landscapers and builders.
"We were farming the whole time at some level, but not as much as we do now," he said.
Mike and his wife have four sons, and one of them decided to stay in the family business, running Judy's family's farm in Moreland.
"We have a passion for teaching people," Judy said. "We do this for our children and grandchildren. We look at them and think about how we want them to eat healthy, grow and cook their own food."
Mike said he hopes to pass on the tradition of growing food and help others understand having a garden is "like taking care of a dog and cat. It takes consistent time, but not all at one time."
Reasons to start a garden
Stephanie Butcher with the Coweta County Extension office said people tell her they want to learn to grow their own food for three main reasons: to teach children where food came from, for health reasons and to save money.
"Since most children today are two to three generations removed from family farms, they don't understand where food actually comes from," Butcher said in an email statement. "In fact, many children in urban areas believe that food literally comes straight from the grocery store. An added benefit is that children who are picky eaters will sometimes eat foods that they grow themselves. My three-year-old son eats cherry tomatoes like candy when he picks them himself."
Butcher said although eating fresh fruits and vegetables promotes a healthy lifestyle and also saves money, the work can be tedious. She encourages prospective veggie gardeners "to start small with a few tomatoes, pepper and squash plants to avoid being overwhelmed."
Judy hopes the pavilion will be complete by summer to host more classes, cooking classes and farm-to-table events.
"Groups such as scouts or church groups or sometimes garden clubs come out, and we host an event for them," Judy said. "It's part of our community service."
Alice Mentzer met the Cunningham's son at a farmer's market in Peachtree City years ago and has been a customer ever since.
"It's nice to be able to come get local, healthy homegrown food from them," she said.
In an email statement, Martha Woodham said she has taken a mushroom class from the couple and actually grew her own. She classified the Cunninghams as "the nicest people in the world who have done so much for Coweta County."
Mike will speak on Feb. 14 at 7 p.m. on how to start a vegetable garden at the Coweta County Backyard Association's monthly meeting at the Coweta County Extension Building at 255 Pine Road in Newnan.
For more information on the Cunninghams or how to donate, visit www.countrygardensfarm.com .