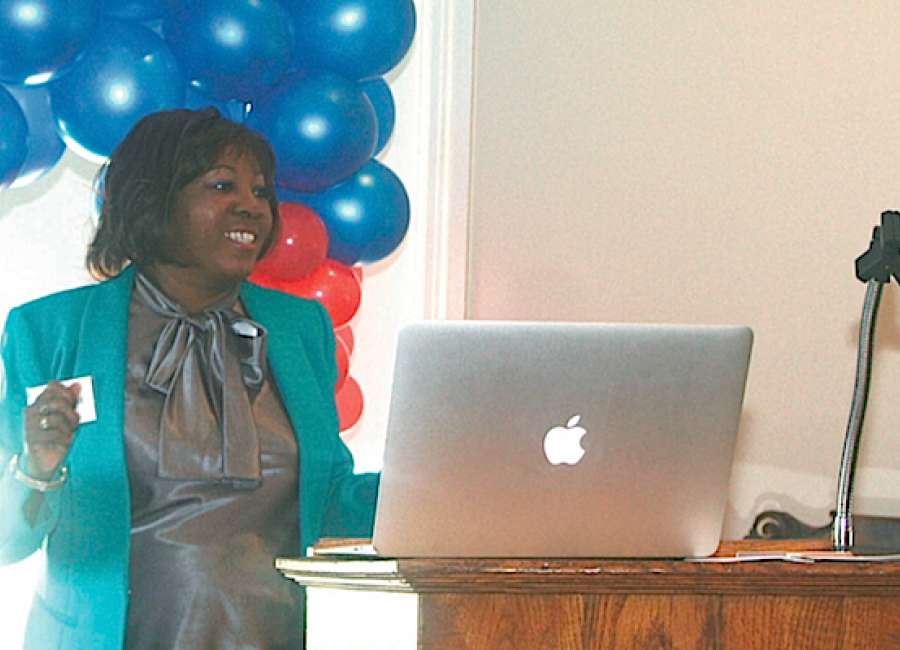 The Business Women's Network, a branch of the Newnan-Coweta Chamber of Commerce, kicked off the new year with their Coffee and Conversation event at the Newnan Country Club on Tuesday to introduce the "Stepping into Success" Mentoring Program, a program in which participants will have access to mentoring and leadership training.

The program is a collaborative effort between the chamber, the Business Women's Network and DSL Coaching Group, LLC.
Professional women from different careers and walks of life are part of the mentor pool.
"Relationship-building is a precious gift," said Cynthia Bennett, director of chamber programs.
Local leadership speaker Ria Story, who owns Top Story Leadership with her husband Mack, said that mentorship is valuable, which is why she decided she needed a mentor as well.
The couple specializes in teaching and improving personal and professional leadership skills.
"It allows us to learn the lessons of those who have gone before us," Story said in an email statement. "It can accelerate our journey. Les Brown was one of my mentors as a speaker, and I learned an incredible amount from him. The most significant way he impacted my life was when I heard him say, "You have a story to tell. Someone needs to hear that story, and only you can help that person." That was the spark I needed to hear that encouraged me to share my story of overcoming adversity and abuse, and it changed my life."
Story said it's important to choose the right mentors in order to learn from someone who has successfully done what you are aspiring to do.
Chamber President and CEO Candace Boothby said the objective of Stepping into Success is to provide a training platform that combines mentoring and coaching in a way that will inspire and encourage women both personally and professionally.
"We're excited about offering this program in 2017 and look forward to seeing new leaders emerge as a result," she said in a press release.
Mentors and protégés engaged in "speed networking" at the event to begin the bonding process, which serves as a foundation for the mentoring partnerships. Each prospective protégé met and talk with a group of three to four mentors who have been recommended for her based on a questionnaire that was completed prior to the event. Each networking session lasted for approximately 10 minutes and protégés then ranked their preferences accordingly. Protégés will be matched with business leaders who are committed to partnering with them to encourage personal growth and organizational success.
Gwen Garrison, who is on the planning committee and will also serve as a mentor, said she wanted to be a part of the program to make a difference and give someone the extra encouragement they might need.
"A prior member suggested the program and it took a while to get it together, but we're here," Garrison said. "So, as you get brilliant ideas, bring them up. We hope this program will provide a meaningful, professional relationship to let you know that someone is there for you and cheer you on. We all need that sometimes."
The mentoring integrates an EQ dimension (emotional quotient or emotional intelligence) and a coaching element, and the program will also offer professional development and team-building opportunities. The mentoring partnerships will develop over a 12-month period during which the mentors and protégés will meet regularly to discuss, brainstorm, share information/experiences, and at times simply encourage one another. The participants will also engage in training opportunities provided by the Business Women's Network and Stepping into Success Program to build a toolkit of resources, strategies and plans to ensure they reach their goals. Each partnership will also receive regular support from one of the mentor planning committee members.
Paige Turner is new to Coweta County and works with Standard Office Systems, which provides businesses with office equipment, document-related and business technology needs. She said the program would be a great opportunity for her to meet other women in the business world.
"I can learn what success they've have and struggles they've encountered along the way," Turner said.
Dr. Blanche Wallace, program chair, summarized the inaugural event as "energizing, enlightening and empowering." She further described the atmosphere as "charged with excitement and anticipation."
There will be a 30-minute orientation for mentors and a separate orientation for protégés to explain how the program will work and what to expect. A graduation program will also be held at the end of the year.
For more information, call the Chamber at 770-253-2270 or visit newnancowetachamber.org .