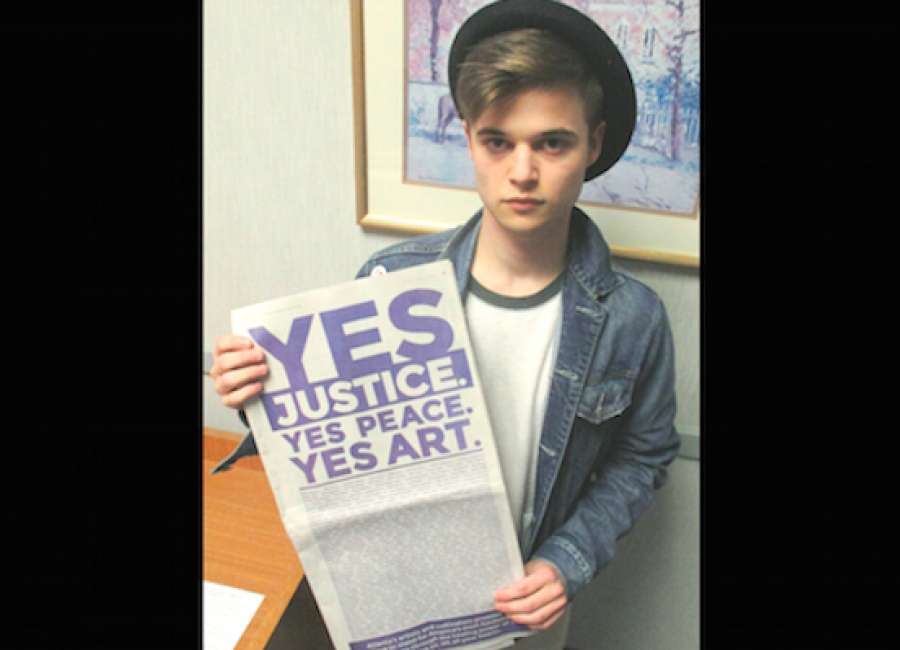 President Donald J. Trump has already begun taking measures to cut federal spending, including funding for the arts, and more than 300 artists all over metro Atlanta have banded together to show their concern.
"Yes Justice. Yes Peace. Yes Art," headlined a full-page ad in the, Jan. 22 edition of the Atlanta Journal Constitution, which was collectively published by the group of artists.
Trump has proposed to cut $150 million federal budget for the National Endowment of the Arts, which is estimated to cost about 46 cents per American.
"The NEA is an independent federal agency that funds, promotes, and strengthens the creative capacity of our communities by providing all Americans with diverse opportunities for arts participation," according to the NEA website.
The agency provides grants for individuals and organizations for art-related projects.
Flux Projects Executive Director Anne Dennington helped organize the efforts along with Richard Carvlin and Lauri Stalling with GloATL. Flux Projects engages Atlanta's public spaces with art while GloATL emphasizes the art of dance.
Dennington said she sent a mass mailing to people she knew who worked in the creative industry, letting them know what the group was trying to do.
"It came about very quickly," Dennington said. "We had less than a week, and the list has grown by 131 people since we did this."
Dennington said there were two purposes of the gesture in her opinion.
"It was just a statement of optimism, hope and commitment to core human and fundamental values and a way of unifying the creative industries," Dennington said. "Not in a negative way, but something that will cross visual arts, dance, theatre, public art, artists and administrative, graphic designers, architects, and filmmakers.
"Arts have great capacity to heal, and regardless of which side you sat on this election, it's a time our country is in need of healing. This is just a reminder to us and everyone else, that arts can do that."
In an email statement, Stallings with GloATL said the group wanted to publish a message "making a statement about core beliefs, and in this way, they could say to the world that Atlanta will continue to stand for America's most fundamental values."
Stallings said that historically, Atlanta has been a home for non-violent demonstrations to bring about change, especially during the Civil Rights Movement.
"These are the eternal marks of King, and Congressman John Lewis, embodying these marks right now," she said. "Perhaps this is why Atlanta is not known to overreact."
Stalling said moving forward, efforts such as these will become bigger and will help artists and others deeply listen to the issues facing the arts community.
Shelby Hofer grew up in Coweta County and heads PushPush Theatre along with her husband Tim Habeger.  
Hofer said she decided to get involved because she works closely with artists in the city. She said the concern for funding for the arts isn't anything new.
"The threat has become very real," Hofer said.
Hofer said the ad was not a political or a directed at Trump, but a way to bring more awareness to the issue.
"We're headed in a uphill battle," she said. "We want to make sure to hold a positive and vibrant presence while still facing an uncertain time."
Hofer said each participant paid a portion of the fees to purchase the ad. She hopes the ad has brought awareness to everyone to include arts and culture in their thinking.
"As we think about where we're headed, we need to think about how much it (the arts)  benefits our lives and those of children," she said.