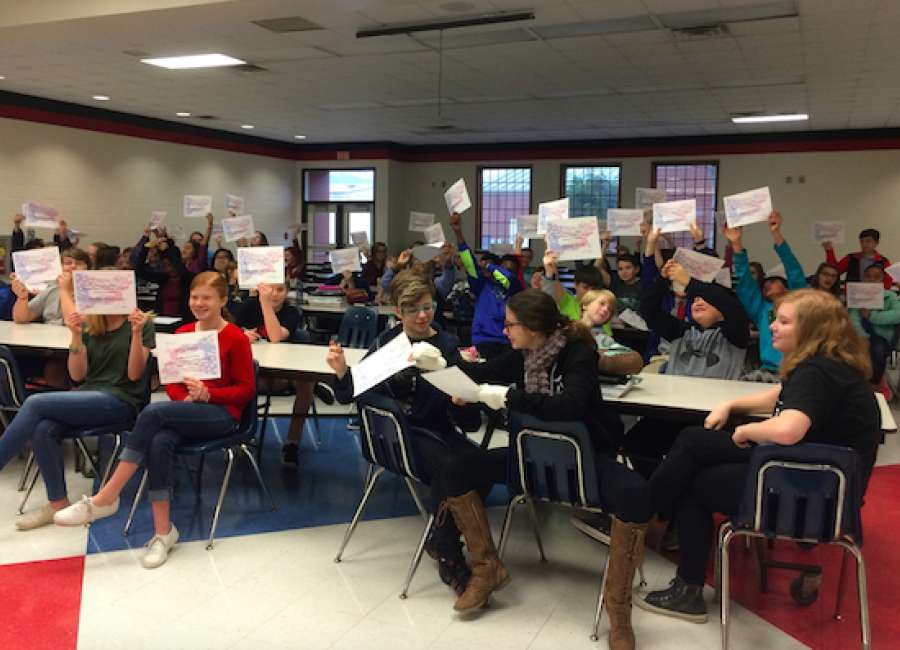 Public, private and home-schooled middle school students submitted 232 entries in the annual VFW Patriot's Pen Essay Contest, sponsored by VFW Post 2667 and Auxiliary in Newnan and coordinated by Tom Fetchet, Janet Alford and Kathy Shiver.
Sixteen judges selected first, second and third place winners overall, as well as from each school. Cash prizes were awarded to overall winners, medals and certificates to school winners and certificates to each student who participated.
Overall winners were Jillian Bates of Arnall Middle School, first place; Serenity Ivey of Arnall Middle School, second place; and Audrey Stratton of Trinity Christian School, third place.
The theme this year was "The America I Believe In." Typed essays were were between 300-400 words and were judged on theme knowledge, theme development, and clarity of ideas.
The top 15 entries were submitted to the district level.
Bates and Ivey were first and second place winners at Arnall, with Courtney Carrington placing third. Jacob Waddell participated as a home-schooled student.
Central Christian School winners were Emily Kate Newman, first place; Bryce White, second place; and Kira McCrary, third place. Evans Middle School winners were Jackson Higgins, first place; and Anna Grace Prophett, second place.
Madras Middle School winners were Grayson Cornwell, first place; McKenzie Larate, second place; and Maggie Marvin, third place. Trinity Christian School winners were Stratton, first place; Matthew Singleton, second place; and Kendall Calhoun, third place.
Coordinators thanked the teachers who guided their students through the program. They included Darby Jones, Arnall; Jenny Lenarz of Trinity Christian; Angela Rembert and Amanda Seebode of Madras; Whitney Self of Evans; and Tammy Newman and Jennifer Booth of Central Christian.