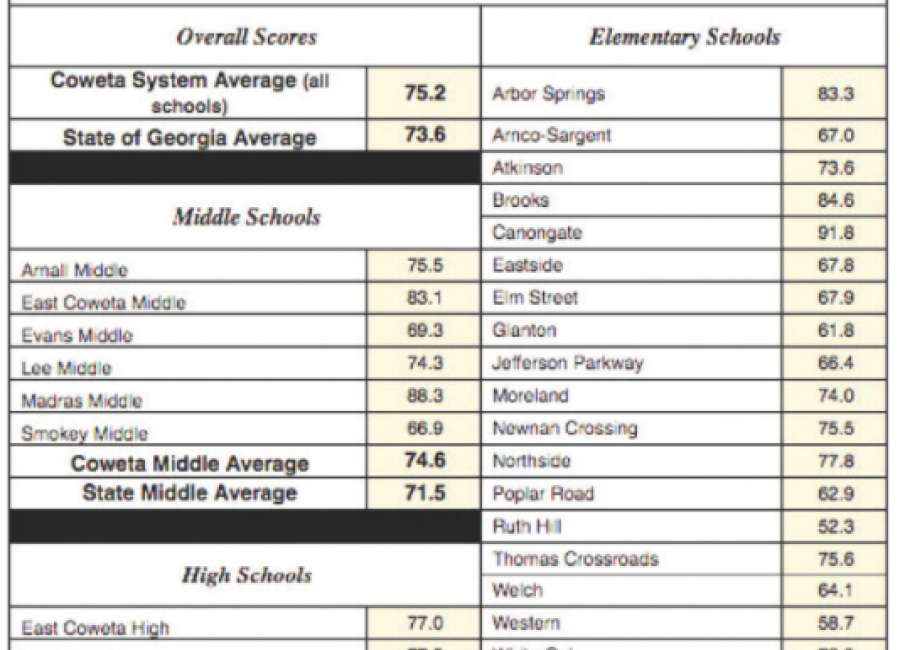 New Georgia College and Career Ready Performance Index scores show significant drops in elementary scores across the state, but Coweta County continues to outperform overall Georgia averages on the 2016 school accountability measure.
The Coweta County School System scored a 75.2 on the CCRPI, Georgia's educational accountability system designed to assess public schools using a broad set of academic criteria. Coweta's score exceeded the state average of 73.6 on the latest report, which uses data collected during the 2015-16 school year.
Both were lower than 2015 scores, which were 75.5 statewide and 78.1 in Coweta County for the 2014-15 school year. Coweta's 74.6 outscored the state middle school average of 71.5, while the county's high school score of 78.6 topped Georgia's 75.7. Among Coweta County middle schools, five scored above the state CCRPI average and one scored below. All three Coweta County high schools scored above the state average on the measure.
The most dramatic decrease in CCRPI scores was among the state's elementary schools. Coweta elementary schools' score of 70.8 lagged behind Georgia's 71.7. Of Coweta County School System's 19 elementary schools, 10 schools scored higher than the state CCRPI average, and nine recorded lower scores.
The Georgia Department of Education attributed the statewide drop in elementary scores to unmet bonus point opportunities for economically disadvantaged students, English learners and students with disabilities.
"These results point to the need for continued intensive focus on the foundations in early grades," State School Superintendent Richard Woods said.
Each year, schools can earn extra points if those student subgroups are meeting performance targets. While subgroup performance increased in math science and social studies, annual targets – which increase from year to year – were not met for those groups on the elementary level in 2015-16.
"We are focused on improving these scores throughout our school system," said Coweta County School Superintendent Steve Barker.
Barker said the Coweta County School System uses student and school data to develop improvement strategies, including Georgia Milestones, CCRPI, SAT and ACT data, among other indicators.
Results from the Georgia Milestones exams make up the largest share of data in the annual CCRPI report. Student performance results from those exams reported to Coweta County last May have been used to develop and implement improvement strategies at county schools.
Julie Raschen, Coweta's director of assessment and accountability, said higher performance in upper grade levels demonstrates a general trend of improvement as students progress through school.
"(For some students entering kindergarten or first grade), a Coweta County School System classroom is their first learning experience," Raschen said. "Our teachers are focused on building basic skills and helping them become successful students. A very large part of that is a focus on building literacy skills. That mastery of literacy and reading comprehension forms the basis of everything else, including students' success at math, science and social studies."
Coweta schools are addressing challenges at the elementary level through several strategies focused primarily on improving early literacy. These efforts are in addition to the focus of Title I school resources on student support.
"As students enter elementary school, our teachers and schools are significantly addressing literacy skills," said Raschen. "Many of our efforts are focused on helping students progressively master higher-level expectations and become college and career ready."
Georgia implemented the CCRPI in 2012 to replace No Child Left Behind's Adequate Yearly Progress assessment. CCRPI rates schools according to a 100-point scale based on multiple indicators, a system intended to provide a more comprehensive picture of school performance than AYP's "pass/fail" ratings.
Despite the CCRPI's multi-faceted approach to assessing student performance data, Woods said scores may not tell the whole story.
"I don't believe the CCRPI captures all the great work happening in our schools," Woods said. "We have seen improvements and, in some cases, record results on the ACT, SAT, and in graduation rates."
Significant changes to the CCRPI assessment formula are expected over the next few years, including the removal of science and social studies Milestones results. Similar changes could render yearly score comparisons useless in tracking school progress, but Woods said state education officials are committed to improving the evaluation process as Georgia transitions from federal guidelines established under No Child Left Behind to its replacement, the Every Student Succeeds Act.
"Through the process of developing Georgia's state plan for the Every Student Succeeds Act, we are evaluating what changes should be made to our accountability system to better measure the overall achievements of our schools," Woods said.
For more information about the CCRPI, visit www.gadoe.org.