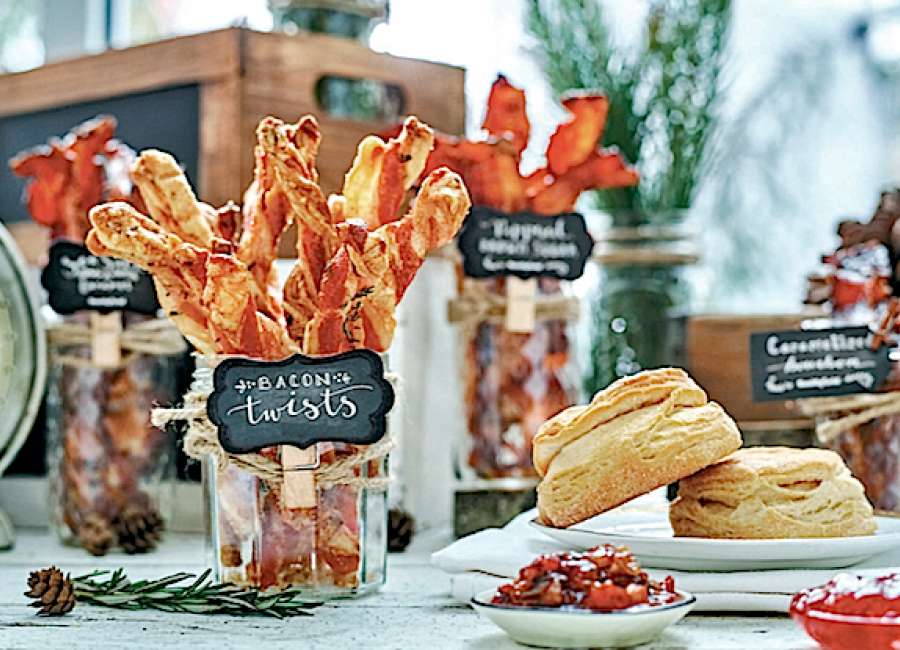 Family Features

The holidays are the ultimate time for connecting with friends and family, so treat them to something special this year with your own mouth-watering take on a holiday feast. Add a new and delicious twist to entertaining this season with a festive bacon bar.
Mix things up with simple decorating tips and these easy-to-make – and even easier to eat – bacon recipes that can help create the perfect setting for your next holiday gathering. Whether drizzled with caramel and sea salt, twisted with puff pastry or baked with bourbon and maple syrup, your guests can enjoy bacon in a variety of ways. 
The classic cut and versatility of bacon is ideal for dishes you can include in your bacon bar like bacon cheddar biscuits, savory bacon jam and flavorful bacon salt. Complete your holiday spread with printed labels that festively identify the variety of bacon flavors, unique recipes and side dishes on display. Simply print templates onto thick card stock and cut to your desired shape. 
Use twine or holiday ribbon to tie the labels onto mason jars, bowls or baskets, or use a small clothespin to clip the labels onto your bacon creations. Garnish your display with garland, red berries and pine cones for added holiday cheer.
Crispy Bacon Twists with Gouda & Apricot Preserves
• nonstick spray
• flour, for dusting
• 1 package (2 sheets) frozen puff pastry dough, thawed
• 1 egg, beaten
• 1 cup (12 ounces) apricot preserves
• 2 cups (about 7 ounces) Gouda cheese, shredded
• 2 tablespoons chopped fresh rosemary leaves
• 2 pounds (about 25-30 slices) bacon
Heat oven to 375 F. Line two rimmed baking pans with foil, set baking racks in pans and lightly spray racks with nonstick spray.
On lightly floured surface, roll out one puff pastry sheet to roughly 8-by-12 inches. Brush top with egg and thinly spread 1/2 cup preserves over dough. Sprinkle evenly with 1 cup shredded cheese and 1 tablespoon rosemary, lightly pressing cheese mixture into dough. Fold short end of dough over to enclose cheese mixture and lightly roll to seal. Cut into 15 1/2-inch strips. Repeat with remaining puff pastry and ingredients.
Lay one slice bacon diagonally. Grab one strip of prepared dough by ends and place one end of dough strip horizontally at top end of bacon and roll bacon with dough downward, stretching dough strip while rolling. Place spiral-wrapped bacon twist on prepared rack and repeat.
Bake twists 35-45 minutes, or until pastry is browned and bacon crisp, rotating pans as needed for even cooking.
Let cool 5 minutes and gently use spatula to remove twists from racks. Serve warm or at room temperature.
Tip: For a different flavor, try smoked or aged Gouda or fresh thyme instead of rosemary.
Bacon Cheddar Biscuits
• 4 ounces shredded cheddar cheese
• 1/4 cup chopped green onions
• 1/2 cup cooked bacon, diced
• 2 cups all-purpose flour, plus 1 tablespoon and extra for rolling, divided
• 1 tablespoon baking powder
• 1/2 teaspoon salt
• 1/4 cup (1/2 stick) butter
• 3/4 cup milk
Heat oven to 450 F.
In small bowl, toss together cheese, green onions and bacon with 1 tablespoon flour. Set aside. In separate bowl, whisk together flour, baking powder and salt. Use pastry cutter or two forks to cut in butter.
Add milk and stir just enough to bring ingredients together. Gently fold in cheese mixture.
Turn dough onto floured surface and knead about 1 minute. Pat or roll out dough to 1/2- or 3/4-inch thickness. Cut into rounds with 2 1/2-inch round biscuit cutter.
Place biscuits on ungreased baking sheet. Bake 12-15 minutes, or until golden brown on top.
Caramelized Bourbon Bacon
• 2 packages (16 ounces each) bacon
• 4 tablespoons honey
• 1/2 cup bourbon
• 4 tablespoons maple syrup
Heat oven to 375 F. Line two baking pans with parchment paper.
Remove bacon from package and space evenly on pans without overlapping slices.
Place pans in oven and bake 15 minutes. Rotate pans halfway through baking time. Meanwhile, combine honey, bourbon and syrup.
Remove bacon from oven. Carefully drain grease from pans. Brush bacon with bourbon mixture. Return to oven and bake 3-5 minutes. Let cool slightly and serve.
Sea Salt Caramel Bacon
• 2 packages (12 ounces each) Bacon, thick cut
• 4 tablespoons caramel topping
• 1 teaspoon flaked sea salt
Heat oven to 375 F. Line two baking pans with nonstick foil.
Remove bacon from package and space evenly on pans without overlapping slices.
Place pans in oven and bake 10 minutes. Rotate pans and continue baking until crisp, about 20 minutes. Remove from oven. Using tongs, place bacon slices on clean parchment paper-lined baking sheet. Let cool slightly.
Heat caramel in microwave 10 seconds. Drizzle bacon with caramel. Sprinkle with sea salt. Return to oven and bake 2 minutes. Let sit 5 minutes. Using tongs, remove to cooling rack. Cool 5 minutes before serving.