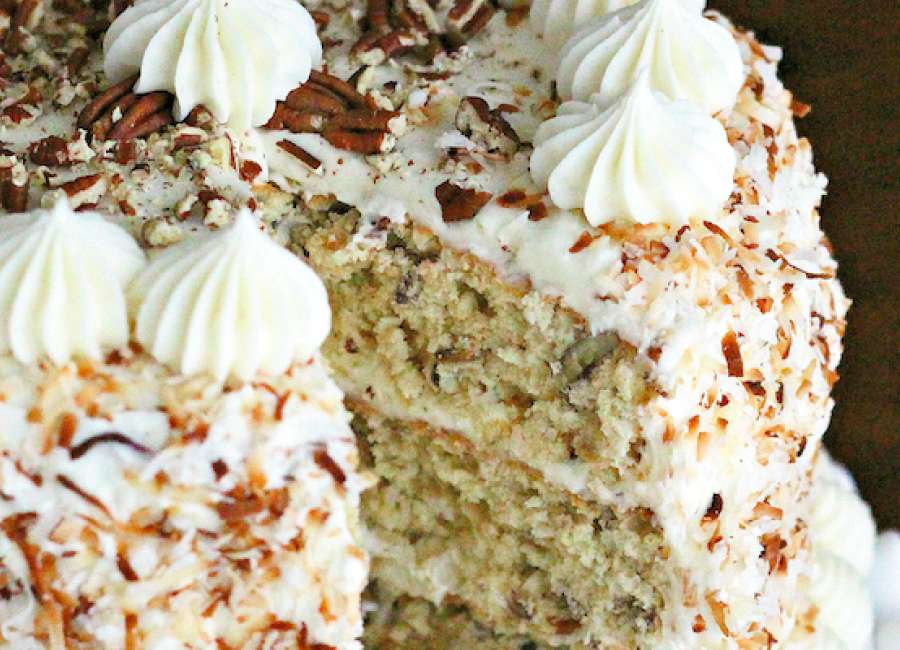 Jim is a serious "cake man." He just doesn't understand how anyone can possibly live without cake on a regular basis. Farming keeps him thin and healthy so I don't fuss about his need for sugar. It never fails that our grocery store clerks will comment on all the sweets in the cart. His favorite saying while in line at the grocery is "I'm not this sweet naturally - I have to supplement it." 

I enjoy baking and most of the time I also enjoy baking "from scratch." But during the holidays, we all seem to be stretched for time so I have been working on some great shortcuts to share with you that makes easy work of really great cakes that would ordinarily be more time-consuming. 
Although we all can't eat sweets like he does, the holidays are the perfect time to indulge.
So let's bake cake.
Pecan Pie Cake
1 box Butter Pecan cake mix
1/2 cup softened butter (1 stick)
1 cup packed light brown sugar
2 eggs
2 tablespoons water
2 cups chopped pecans
Topping:
1/2 cup softened butter (1 stick)
2 eggs
1 cup sugar
1 cup light corn syrup
1 cup milk
Preheat your oven to 325 degrees and grease a 9x13-inch baking pan.
Measure out 2/3 of a cup of cake mix and set it aside.
Place remaining cake mix in a mixing bowl with 1/2 cup of softened butter, light brown sugar, 2 eggs, and the water.
Use an electric mixer to mix well.
Fold in the pecans and pour the batter into your prepared pan.
Place in the oven and bake for 25 minutes.
Just before the baking time is up, mix together 1/2 cup of softened butter, 2 eggs, sugar, corn syrup, milk and the 2/3 cup of cake mix that you set aside.
Remove the pan from the oven and pour the second batter on top.
Return the pan to the oven and bake another 35 minutes. If you are using a glass pan you might need to bake it a few extra minutes. The cake is supposed to be jiggly in the center.
Serve warm with whipped cream or vanilla ice cream.
Southern Hummingbird Cake
The easy version with the same great taste.
1 8-ounce can crushed pineapple (do NOT drain)
3 or 4 mashed ripe bananas
1/4 cup milk
2 eggs
1 teaspoon vanilla extract
1 package yellow cake mix
1 can (16 ounces) vanilla frosting
chopped toasted pecans
Beat together the first 5 ingredients in a large mixing bowl at low speed with an electric mixer until blended. Add the cake mix and beat at medium speed for two minutes. Pour the batter into a well-greased Bundt pan.
Bake at 350 degrees for 50 minutes or until a toothpick inserted into the center comes out clean. Cool in the pan on a wire rack for 15 minutes. Remove the cake from the pan and cool completely on a wire rack.
Microwave the frosting for about 20 seconds until it is pourable. Let cool for 1 minute and then drizzle it over the cake. Sprinkle the pecans on top of the frosting.
Southern Pecan Praline Cake With Butter Sauce
This cake can also be made in a Bundt pan if you like.
For the cake:
1 box Butter Pecan cake mix
1 tub (16 ounces) coconut pecan frosting
4 eggs
1/2 cup vegetable oil
1 cup water
1 cup chopped pecans
For the sauce:
1 can (14 ounces) sweetened condensed milk (not evaporated milk)
2 tablespoons butter
1 cup chopped pecans
Preheat your oven to 350 degrees.
Spray a 9x13-inch baking dish with nonstick cooking spray.
In a medium mixing bowl, combine all of the cake ingredients except for the chopped pecans. Don't forget to add the tub of coconut pecan frosting mix - that goes into the cake batter, too.
Mix well with an electric mixer and then stir in the chopped pecans by hand.
Pour the batter into your prepared baking dish.
Bake for about 40 minutes - cake should spring back to the touch and be golden brown or a toothpick inserted into the middle should come out clean. 
Cool.
For the sauce: In a small pan over medium heat, melt the 2 tablespoons of butter.
Pour in the can of sweetened condensed milk and stir.
Continue to stir until heated through then add the cup of chopped pecans. 
Stir again and take off of the heat.
Cool slightly and pour over the cake or make it just before serving and pour it hot over the individual cake slices.
Quick Italian Cream Cake
1 package white cake mix with pudding
3 eggs
1 1/4 cups buttermilk
1/4 cup vegetable oil
1 (3 1/2-ounce) can of flaked coconut
1 cup toasted chopped pecans
Cream Cheese Frosting
1 1/2 packages (12 ounces) softened cream cheese
3/4 cup softened butter
6 cups powdered sugar
1 cup toasted chopped pecans
2 teaspoons vanilla extract
Pecan halves for garnish (if you want to go fancy)
Beat the first 4 ingredients at medium speed with an electric mixer for 2 minutes. Stir in the coconut and pecans by hand. Pour the batter into 3 well-greased and floured 9-inch round cake pans.
Bake at 350 degrees for 15-20 minutes or until a toothpick inserted in the center comes out clean. Cool in the pans on a wire rack for 10 minutes and then remove from the pans and cool completely on the wire racks.
To make the frosting: Beat the cream cheese and the butter at medium speed with your electric mixer until it is nice and smooth. Gradually add the powdered sugar, beating until light and fluffy. Stir in pecans and vanilla. Spread the frosting between the layers and on the top and the sides of the cake. If you like, decorate the top with pecan halves and then chill for at least a couple of hours.
I'd like to share a hint with you. Since I bake a lot, I try a lot of products. One of the most incredible is a flour and oil spray made by Wilton. I get it at the craft stores that carry Wilton cake products. I have never had one single thing stick to my pans or casserole dishes. I think you'll find it pretty darn amazing. 
With love, from our house to yours.