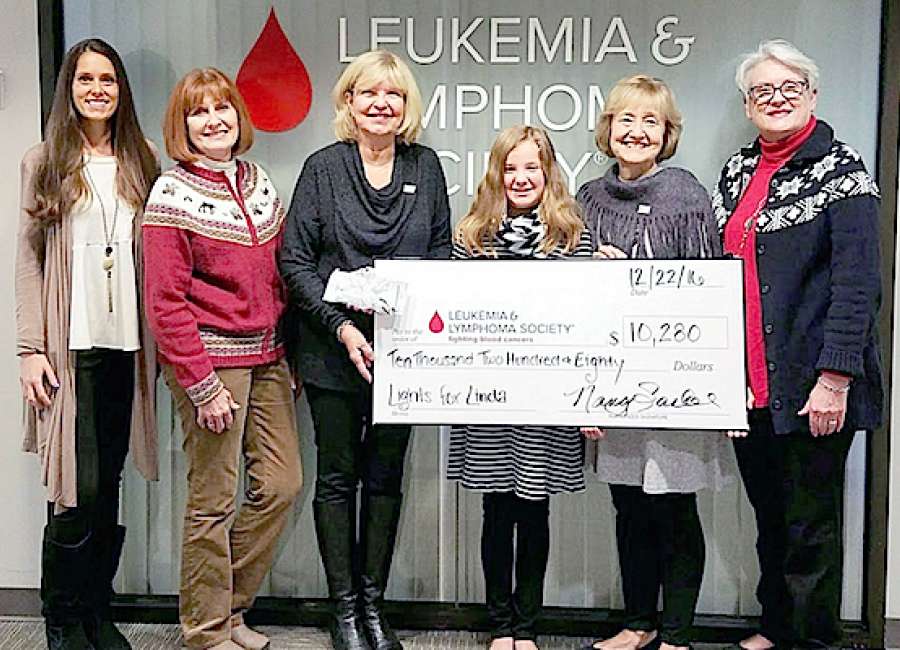 One local nonprofit is celebrating in a big way this week — and not just in honor of the holidays. 

Nancy Sanker, founder of Lights for Linda (L4L), a fundraising organization benefitting the Leukemia & Lymphoma Society, led the group of board members and volunteers to a record-setting profit that far surpassed the original goal for 2016. 
This year alone, L4L raised nearly half of the total amount the organization generated in its first five years, a total of $10,370. 
"Lights for Linda was such a success this year," Sanker said. "One door after another was opened for us."
The nonprofit, now heading into its eighth year in 2017, was named for Sanker's sister, Linda McGrenaghan, who lost a 19-year battle with leukemia in 2009. In the past seven years, L4L has raised more than $30,000 for the leukemia society, which uses contributions like those generated locally to continue research, support and educational programs focused on leukemia and lymphoma. 
According to Sanker, the L4L journey began with a sympathy card she received just after her sister's passing. The card included an English translation of an ancient Chinese poem:
She has taken her bright candle
And gone into a room I cannot find, 
But anyone can tell where she's been,
By all the little lights she's left behind. 
"That poem just made everything come together, and it was in a way my sister would have wanted," Sanker said in a previous interview. "After she passed, I wanted to do something that moved us forward."
The annual event and fundraiser includes the sale of luminaria kits, which are made up of eight luminary bags, eight long-burning candles, sand and instructions for a suggested tax-deductible donation to the Leukemia and Lymphoma society. The luminarias are lit on Christmas Eve in honor of Linda and those suffering from cancer and other difficult and debilitating diseases and conditions, as well as those who care for them.
Over the years, other fundraising opportunities have emerged including the sale of greeting cards with an image of luminarias glowing in the SummerGrove neighborhood where the tradition began. Funds were also generated by Spirit Nights held at nearby restaurants, yard sales and even a lemonade stand set up in 2016 by Caroline Hawes, the 10-year-old granddaughter of L4L board member, Judy Sweeney. 
This year, L4L provided luminarias to the Newnan Presbyterian Church Preschool for the church's annual historic home tour. The organization also began renting vintage snack sets for showers, parties and weddings. The sets include several pieces of dinnerware along with vintage props for a variety of celebrations. 
"Any endeavor is only as powerful as the people behind it," offered Sanker in a recent email update regarding L4L. "What began as a simple Christmas Eve luminaria remembrance has grown to raise significant funds thanks to an ever-generous community." 
For more information about the L4L organization, visit www.lightsforlinda.info .