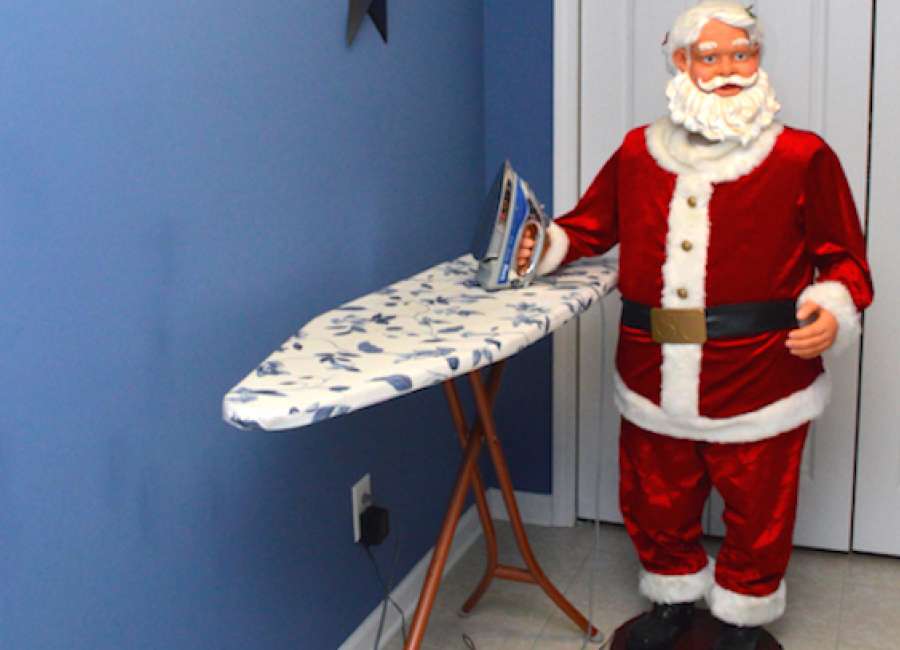 It began with Lynda and Monty Harris having fellow members of the Sardis Baptist Church Choir over for a Christmas party. 
Their home in Chattahoochee Hills was decorated for Christmas. Each year, more and more decorations were added, and "it just grew to inviting more people" each year, Lynda Harris said.
These days, when the house is fully decorated, it's hard to find anything that isn't Christmas-related. They had 94 people at this year's Christmas open house, and more than 20 to come visit since then. 
It's been 15 or more years that Lynda Harris has been totally decorating her house for Christmas. Her granddaughter, Rose, is 13 and things started well before she was born. 
This year may have been their last of going all out. 
"It takes at least six weeks to get it out," Harris said. She takes down every picture in her home and packs it up and replaces it with a Christmas-themed piece of art. There are boxes and boxes of items large and small. 
"It's hard going down the steps to take stuff down and bring stuff up. And there's all the glass things you have to be so careful with. It's just a really hard job, but in the end, it's worth it."
It's not quite as much work to put everything up, because you don't have to be quite so careful. 
Harris decorates for all the holidays, but not to this extent. They do the big Christmas every other year. On those years, she can't really decorate for Thanksgiving, because their Christmas open house is the first Saturday in December. 
Harris recalled telling a friend at church that she had put up another Christmas tree. 
"She told me, 'Lynda, you know you have to take that down.'
"I said I'm not going to think about that. I never take it down until after New Year's. I've got it up and I've worked hard and I like to enjoy it."
She has help, of course. One friend likes to come and help unpack, though Harris is very hands-on with placement. And her daughter-in-law helps, as well. She does the main tree in the living room, and puts the best ornaments in the front. 
"She tells me, 'We can't get all these ornaments on here,' I say, 'Oh yes we can,'" Harris said. 
"We have a good time with that. And my son comes and puts the train up every year."
It's taken many years to build up Harris' collection. 
It's all been bit by bit. "I just started small and added to it through the years," she said. 
"When I go shopping, I don't go looking for anything special. But if I see something that is unusual, that is affordable, then I might buy that." 
"I tell people I'm always on the lookout for treasures," Harris said. "I've found a lot of them through the years."
This year, the new addition was the pair of "wooden" soldiers that guard the front door. 
"I'd wanted some for years and year and years, but they're always so expensive. This year, we found those at Sam's. They were wonderfully priced. I told my husband I'd buy one if he'd buy one."
She gets a lot of her decorations after Christmas – for 75 percent off. During the season, sometimes she'll keep an eye on something, and then go find it when it's on sale before or after Christmas. 
"The tree skirt in the bedroom I saw at Dillard's several months ago, but it was way too expensive. But this week it was 50 percent off," Harris said last week. 
One year, her niece saw a lovely snowman punch bowl. She contacted Harris and told her about it. "The day after Christmas we went and looked and they still had it, so we got it for half price."
She likes to go to Christmas-themed stores and look, but they usually don't have the best prices. 
One of her manger scenes has been built piece by piece over the years. "I started off with just Mary and Joseph and the baby, and then my sister bought me a couple of pieces. One year I went to the mountains and I had never seen some of the pieces they had. And last year, I saw the choir."
Harris already had two choir pieces. When she saw more in a store, she could tell they had been there for a while. So, she negotiated with the owner to get a special price and she finished her collection.
In addition to the annual open house, people will often call and just want to come walk through the house. 
Last week, a lady brought her adult daughter to visit. "She just could not believe it. She was just amazed." Several years ago, "I had an older man who came and he went through and he sat down and he cried. He was so moved, he just cried for a little bit."
"You can just feel the love when people come in, and you see how it affects them … Christmas is all about Jesus but it's also about family and friends," Harris said. 
"It's things like that that make you think it's all worthwhile."