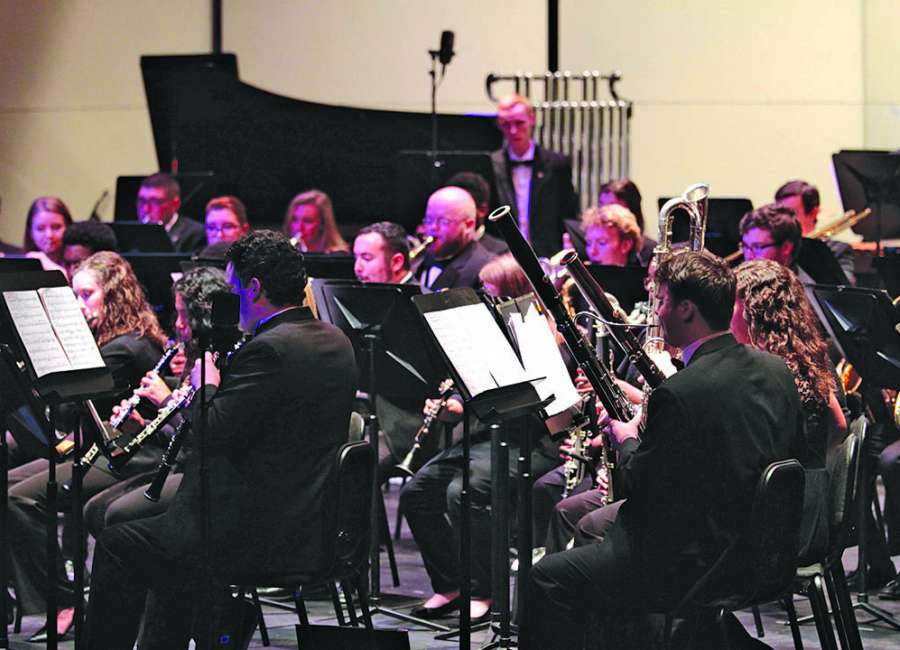 – By Sheryl Marlar, The West Press
The University of West Georgia Wind Ensemble has been selected to be showcased at the College Band Directors National Association (CBDNA) Convention in Kansas City. Chosen from over 40 submissions, the ensemble will be featured as the Small Band Showcase at the convention in March 2017.
The university has had a Wind Ensemble for at least 30 years, under several different names, including Concert Band and Symphonic Band. The approximately 60-member ensemble is comprised of the top wind and percussion players on campus, open each semester by audition only.
According to Dr. Josh Byrd, director of bands, this is the first national honor for the Wind Ensemble.
"This honor is representative of the hard work that our wind and percussion students have put in over the last several years," he said. "To have a blind panel select our recording says a lot about the students, our program, and our faculty."
While the ensemble will not actually travel to the convention, Dr. Byrd will play the group's recording of Aurora Awakes by John Mackey for the CBDNA members from around the country who will be in attendance.
Dr. Kevin Hibbard, chair and professor of music, is very proud of the Wind Ensemble as well as the students who contribute to the success of the group.
"Dr. Byrd has done an exceptional job of recruiting top players from around the state and has provided exemplary musical leadership in programming and conducting the ensemble," he said. "Being selected to present at a national conference such as CBDNA is documented evidence of the great work he is doing at UWG."
Dr. Byrd said he feels that the success of the ensemble is truly the result of a team effort.
"The ensemble really enjoys making music together, and it is so much fun and a privilege to make music with them each week," he added.