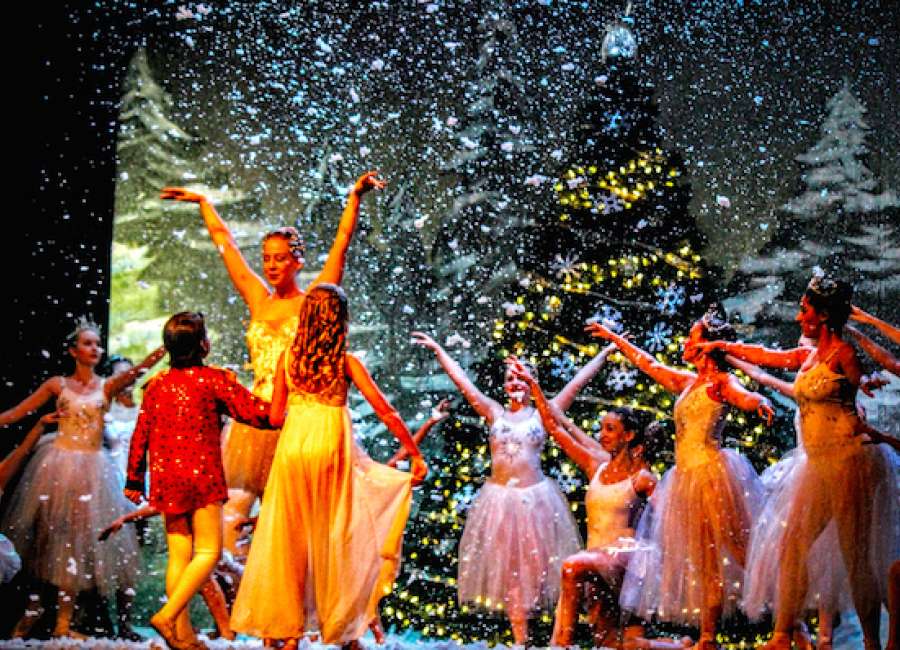 When Southern Arc Dance's "The Nutcracker" takes the Wadsworth Auditorium stage Dec. 16-17, audience members will have the opportunity to watch not only professional and student dancers perform, but members of the community as well.

Starring ballerina Regina Metayer as Sugar Plum and James La Russa as Sugar Plum Cavalier, the Newnan Cultural Arts Commission-sponsored event features young dancers from Southern Arc Dance and Sharpsburg Dance Academy throughout the performance.
The Christmas party scene will be populated with dance parents and other members of the community, including Carol Healy, John Kennedy, Jeffrey Cook, Michelle Gillardon, Tori and Taylor Lamb, Harriet McLaughlin, Wade Robbins, Irina Wilkes, Phillip Midas and Clint Taylor.
Many of the adult performers as well as the tiniest dancers – some as young as 2 – will make their public debut in "The Nutcracker."
"For some, it's their very first 'Nutcracker' and first time on stage," Southern Arc Dance Artistic Director Paulo Manso de Sousa said. "The parents are working very hard and really enjoying the entire experience."
Manso de Sousa said Southern Arc Dance is "very excited" to bring Metayer and La Russa to Newnan.
Metayer began her dance training in Port-au-Prince, Haiti at the Haitian-American Academy of Ballet & Arts. She was a performing member of the Haitian-American Contemporary Dance Theater, under the direction of Eileen Herzog-Bazin. Metayer attended Florida State University where she earned a BFA degree in dance.
She has performed in such noted works as Balanchine's "AGON," "Midsummer Night Dreams," "Cinderella," "La Bayadere," "Paquita" and "The Nutcracker." Metayer has performed with City Gate Dance Theater and Ballethnic Dance Company, and she is the owner and founder of the Metayer Conservatory for the Arts in Atlanta.
La Russa began his dance training at The Atlanta Ballet and was a student of the pre-professional division by the age of 9. During his time as a student, he earned full scholarships to the Atlanta Ballet Summer Intensive, Boston Ballet Summer Intensive, and the Australian Ballet School. He's performed in multiple works adjudicated for the Southeast Regional Ballet Association as well as Regional Dance America.
After graduating high school, La Russa earned his Bachelor of Science degree at Emory University where he double-majored in dance/ movement studies and biology with a concentration in pre-veterinary medicine.
During his time at Emory, he was part of the Emory Dance Company, Captain of the Hip-Hop dance crew TrickaNomeTry (TNT), and a company member for the professional contemporary dance company, Staibdance. La Russa has traveled with George Staib's Company to perform multiple works in Stockholm, Sweden; Sorrento, Italy; and Mumbai, India.
Manso de Sousa himself also will take the stage, appearing in the role of Drosselmeyer. Southern Arc Dance is dedicating the 2016 performance to the memory of its original Drosselmeyer, JW Elliot Jackson, who passed away in October of cancer.
Performances will be Friday, Dec. 16 at 7:30 and Saturday, Dec. 17 at 5 p.m. at the Wadsworth Auditorium, 25 Jefferson Street in Newnan. General admission tickets are $20, available at www.tututix.com/southernarcdan... or www.southernarcdance.org.
For more information, call 770-683-3724.