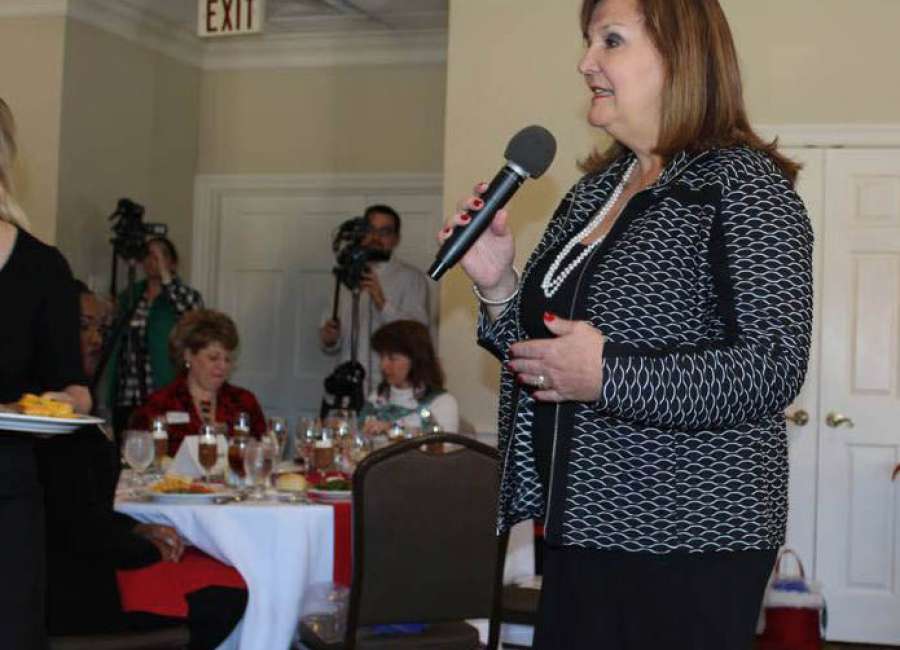 Etiquette and manners will be very important for the upcoming holiday gatherings, but many people may not know what utensils to use or when and how to properly interact at social or business functions.

Ginger Booton, certified etiquette trainer with Hyundai MOBIS in West Point, explained dining etiquette at the Women of Prosperity Lunch at the Newnan Country Club on Dec. 7, which is hosted by the Business Women Network of the Newnan-Coweta Chamber of Commerce. Booton covered dining etiquette and table manners, as well as business etiquette regarding thank-you notes, cell phones and handshakes.
"I've always had a passion for etiquette," Booton said. "I think we've lost the art of thinking about etiquette, and our children and young adults are not aware."
She said the most common question about a place setting is where the bread is located, which is on the left. Drinks always go on the right.  
"Your napkin always goes in your lap, and it serves to protect clothing," she continued. "You should always use the napkin to wipe your mouth, but it's not nice to blow your nose with it."
Booton advised that whenever at a formal dinner or networking event, it's important to always use good manners.
"Be sure to enjoy the speaker and network among each other," she said. "Don't get too full. Make conversation and talk to the person on your left and right."
She recommended having 10 questions ready to go for suitable topics such as the weather, pets, movies, books or travel. It's also important to pay attention to local and national news to be well-informed about what's going on.
She said that many people eat the bread and butter incorrectly, by slicing the bread open and spreading butter, instead of using the bread knife to put butter on torn pieces of bread, one piece at a time.
"The salad fork is always smaller," Booton continued. "Always start from the outside and work your way in. (Using utensils closer to the plate each course.) Always cut your lettuce into small pieces and pass the dressing around. Glasses start from the right, and you should work your way (in toward the plate), if there's more than one."
As far as social media and cell phones, Booton said they are helpful, but shouldn't consume every aspect of life.
"I believe sometimes the phones takes control of our lives and we miss the opportunity to meet and get to know people," she said. "Be conscious and present at meetings. If you must take a phone call, step out in the lobby. Do not take the phone call at the table. I try to teach that to children. We're not allowed to have our cell phones at the dinner table."
The etiquette trainer said that many people have gotten away from handwriting thank-you notes, which always adds a personal touch.
"Everything is done electronically," she said. "This is completely acceptable in the business world because that's the way we communicate."
She then suggests it's best to write handwritten thank-you notes for gifts.
When making a connection for the first time, she said people typically only have about three seconds to make a first impression, so be sure to make eye contact and have a firm handshake.
Etiquette Tips: things you should never do while dining.
Noisy eating-slurping, burping and gulping.

Eating with your hands when you should be using a utensil.

Talking with food in your mouth and chewing with your mouth open.

Inhaling your food.

Licking your fingers.

Not using a napkin.

Beginning to eat before others at the table have received their food.

Checking your electronic devices/not paying attention.

Hovering over your plate and putting elbows on the table.

Eating off someone else's plate.

Pushing away the plate or bowl when finished.