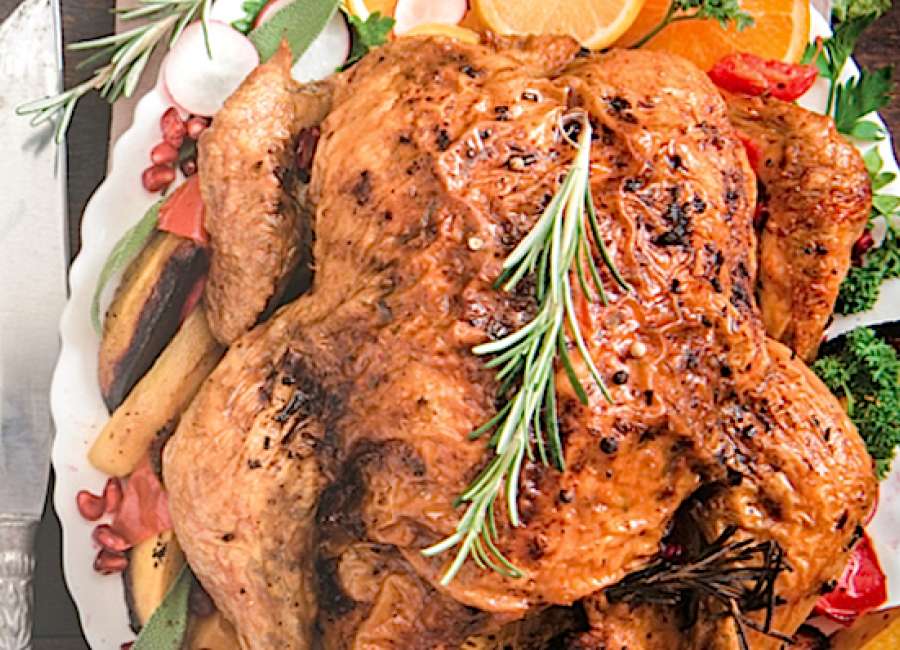 – By Barb Wetherington

It's time to start planning our list for all the wonderful holidays that are coming. I have hundreds of holiday recipes that I have made over the years and no way to share them all with you. But that's OK because we are very traditional here in our home and I always end of making the basics that Jim loves and can't live without. So there aren't many food adventures here on the actual holiday. The adventures that are made are made in those weeks around the actual day.

Speaking of Jim… he is just like the Dad in that classic movie we all love - The Christmas Story. Thanksgiving for him is all about that big glorious turkey. When our home became two people, I tried doing the turkey breast thing. Well, that didn't work out at all. There was a lot of grumbling around here. So I tried the baby butterball turkey. Nope. More grumbling. I have reverted back to that great big monster turkey. Now he is happy. He just can't seem to get enough turkey. Turkey and dressing. Turkey sandwiches. Turkey a la king. Turkey casseroles. He loves it all. So we have a turkey for two that would easily feed twelve. And happiness is evident again around these parts.
Today I will share an easy delicious Thanksgiving morning recipe and the really great sides that have become the standard around here.
So, start making your grocery list.
Cinnamon Roll Casserole
An easy breakfast recipe that will keep everyone happy while that turkey cooks.
2 cans of Pillsbury Cinnamon Rolls
1/2 cup of milk
4 eggs
1 teaspoon of cinnamon
1/4 cup of pure maple syrup (the real stuff)
Butter a 9x13-inch baking dish.
Cut each of the rolls up into 4 pieces and lay them in the baking dish.
Whisk the eggs, milk and cinnamon together and pour it over the rolls making sure they are well-coated.
Drizzle the maple syrup on top.
Bake at 350 degrees for about 35 minutes or until they are all puffed and golden brown.
Microwave the icing that came with the 2 cinnamon roll packages in a small bowl and drizzle it all over the top.
Serve warm.
Southern Cornbread Dressing
Another one of those foods that Jim can't get enough of. This has been my go-to recipe for a long time and it never fails to come out perfectly. I make my pan of cornbread a week or two in advance, crumble it up and store it in the freezer in a zippy bag. It makes everything easier to put together. The recipe for the cornbread is included here.
Cornbread
1 cup of self rising cornmeal
1/2 cup of self-rising flour
3/4 cup of buttermilk
2 eggs
2-3 tablespoons of melted butter
Preheat your oven to 350 degrees.
Combine all the ingredients and mix well. Pour the batter in a shallow, well-greased baking dish (I use an 8-inch one).
Bake for about 20-25 minutes.
Let cool and crumble up.
Dressing
Crumbled cornbread
7 slices of toasted white bread, crumbled
1 sleeve of saltine crackers, crumbled
8 tablespoons of butter
2 cups of chopped celery
1 large chopped onion
7 cups of chicken broth
1 teaspoon of salt
black pepper
1 teaspoon of sage
1 tablespoon of poultry seasoning (optional, but we love the flavor)
5 beaten eggs
Preheat your oven to 350 degrees.
In a large bowl, combine your crumbled cornbread, white bread and saltines.
Melt the butter in a skillet over medium head. Add celery and onion and cook until tender - about 5 or 10 minutes.
Pour this vegetable mixture over the cornbread mixture. Add the broth,salt, pepper, sage and poultry seasoning. Mix well.
Add the beaten eggs and mix well again. The mixture will be messy.
Pour the mixture into a well-greased baking dish and bake until cooked through - about 45-50 minutes.
Sweet Potato Souffle
OK. Jim loves this stuff. I do not like pumpkin or sweet potatoes but what can I say... The things we do for love!
5 medium sweet potatoes
2 large eggs
1 cup granulated sugar
4 tablespoons melted butter
2 teaspoons of vanilla extract
1/2 cup of milk
A pinch of salt
Topping:
1 cup of chopped pecans
1 cup of packed brown sugar
1/2 cup of all-purpose flour
1/4 cup of soft butter
Poke the sweet potatoes with a fork and bake on a foil-lined baking pan until soft - about an hour. (This can also be done a couple of days in advance, mashed and stored in the refrigerator. I have tried to shortcut this step by using canned mashed sweet potatoes and it works...but this tastes much better - according to the sweet potato expert that lives in my house.)
When potatoes are cool, peel and mash until smooth.
Add the eggs, sugar, butter, vanilla, milk and salt.
Mix well with an electric mixer.
Pour the mixture into a well-buttered baking dish.
Combine your topping ingredients and sprinkle evenly over the top.
Bake in a 350 degree pre-heated oven for about 40 minutes.
Cranberry Salad
I really LOVE this stuff.
1 (20 ounce) can of crushed pineapple in juice, UNdrained
2 small (3 ounces each) packages of raspberry jello (you can also use cherry or cranberry jello or sugar-free jello)
1 (16 ounce) can of whole berry cranberry sauce
1 cup of chopped pecans
Drain the pineapple, reserving the juice.
Add enough water to make 2 1/2 cups and pour into a saucepan. Bring to a boil, remove from heat.
Add jello and stir for 2 minutes or until completely dissolved.
Pour into a pretty bowl and add pineapple, whole cranberry sauce and pecans.
Refrigerate.
Here's hoping you have a wonderful holiday and enjoy making some of these classics.
With love, from our house to yours.