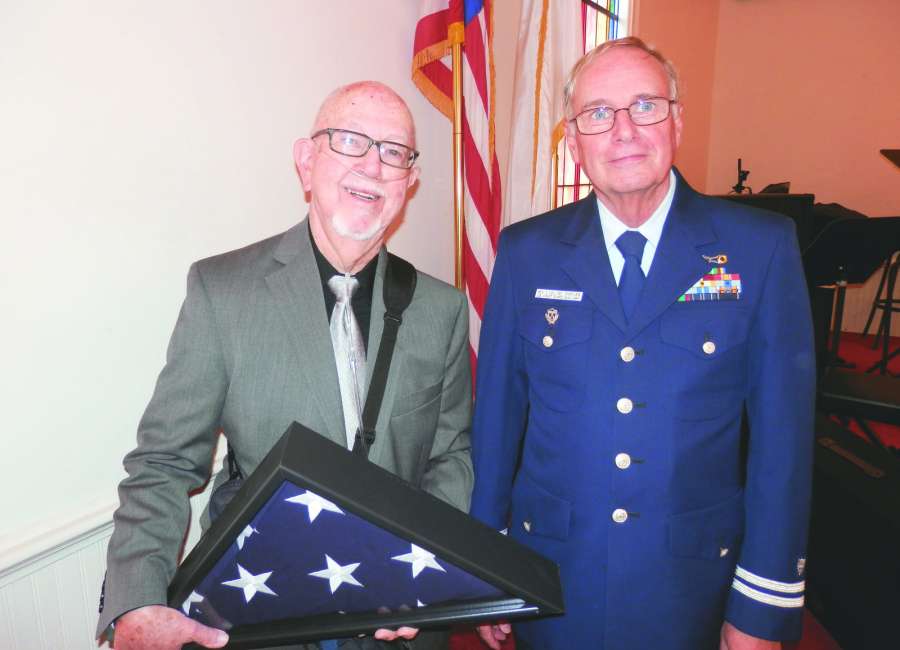 Several area churches offered a heartfelt salute to veterans in November.

Some paid tribute to veterans on Nov. 6, the Sunday before the annual observance of Veterans Day. Others noted the contributions of veterans on Nov. 13, a couple of days after the national holiday.
Mills Chapel Baptist Church honored veterans during its morning service on Nov. 6.
The Men of Cornerstone Quartet presented "A Tribute to the Armed Forces," arranged by Lloyd Larsen, at the two morning services Nov. 13 at Cornerstone United Methodist Church at Thomas Crossroads. Presentations of flags by veterans of the different branches of service were part of those services.
"We recognized our veterans during the Sunday school hour on Nov. 13," said Bryan Calhoun, pastor of Calvary Baptist Church on Martin Mill Road. The goal was "to let them know how much we appreciate their service and sacrifice to our country," the pastor said.
The veterans present for the service at Calvary spoke of their time of service "and a few experiences they had while serving," Calhoun said.
The same day First Baptist Church of Moreland honored veterans. "George Collins, who served in the Coast Guard, led the service and presented a flag to the church's oldest veteran, Howard Wilson," said Daniel Ausbun, pastor of the church.
At Allen-Lee Memorial United Methodist Church in Lone Oak on Nov. 13, the veterans present – Tom Adams, Jim Howard, James Johnson, Pete Johnson and Jack Parker – were asked to stand. James Johnson brought World War I and World War II service Testaments and a chaplain's service manual from World War I which were displayed and examined by worshippers after the service.
Representatives of several area churches took part in a Veterans Day tribute on the afternoon of Nov. 13 at Roscoe Jenkins Funeral Home. Dr. Kenneth G. Bailey, the funeral home's chaplain and pastor of White Oak Grove Baptist Church, was master of ceremonies.
Bailey is a Gulf War veteran of the U.S. Army.
Octavia J. Mahone, partner/owner of the funeral home, welcomed attendees. The colors were posted by the local Buffalo Soldiers – AMVETS Post 910, followed by the pledge to the flag by U.S. Army Vietnam veteran Jerome Kirkland.
Terrilyn Lemons, senior pastor of Newnan Chapel United Methodist Church, led in prayer before Miss Destiny Reeves sang "The Star-Spangled Banner." Sgt. Terrance Dixon, U.S. Army, explained the symbolism in the POW/MIA table.
A speech, "How Can I Help?," was given by Sgt. 1st Class Esteller Adams-Sapp. Adams-Sapp is retired from the Army and is now a veteran service representative in Decatur.
Linette Ward, partner-owner of the funeral home, introduced Lt. Col. Arthur R. "Randy" Davenport Jr., U.S. Air Force (RET) who brought the keynote address, "Why I choose to stand." Davenport is senior aerospace science instructor at Riverdale High School, where he leads the Air Force JROTC program.
Davenport served 20 years in the Air Force as a medical service corps officer. He believes strongly in the Air Force JROTC's mission in developing better citizens to serve the community and nation. He also is a deacon at St. Smyrna Baptist Church and a brother of the Omega Psi Phi Fraternity
At the Roscoe Jenkins' service, veterans were recognized in a roll call by Lt. Col. Deatrix Morris, US Air Force (RET). Veterans of each branch stood and sang as their anthem was played.
This year's honorees were Coweta County JROTC instructors and the Buffalo Soldiers – AMVETS 910. Recognized as JROTC leaders were Maj. Peter Merrill, U.S. Marines and Master Gunnery Sergeant Mark Johnson, U.S. Marines, East Coweta High; Maj. Scott Bright, U.S. Air Force; and Sergeant Michael Turner, U.S. Air Force, Newnan High; and Lt. Col. James Dorsey, U.S. Air Force and Master Sgt. Ronald Wolfe, U.S. Air Force, Northgate.
Minister Antonio Johnson sang "The Battle Hymn of the Republic." Charlie Smith of the Buffalo Soldiers played "Taps" before the benediction ended the program.