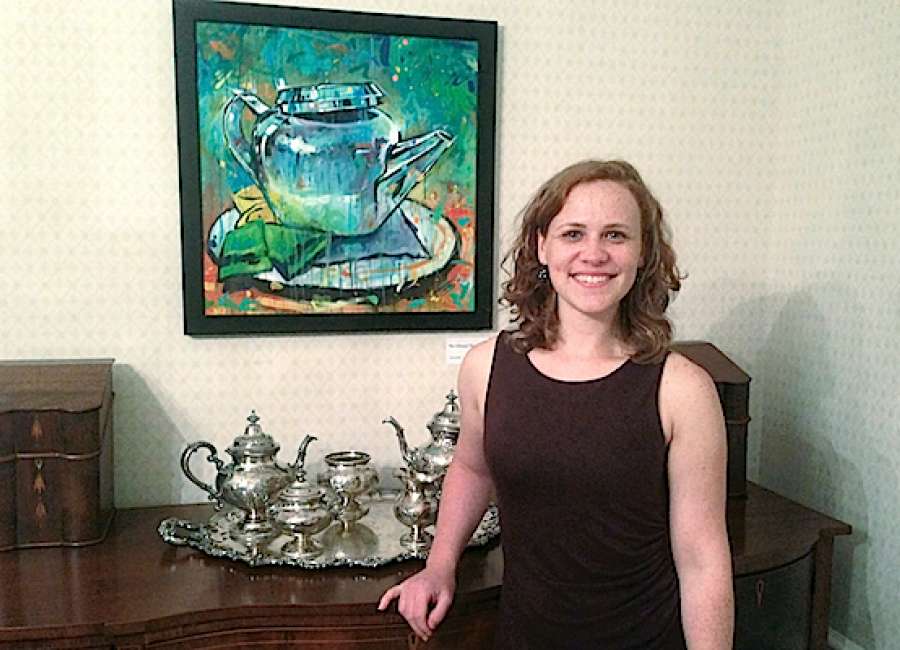 Coweta native Tiffany Thomas has been a "local artist" since childhood, having taken classes offered by Newnan art instructor Bette Hickman right here in Newnan more than 20 years ago. Hickman has continued to be a leader in the county arts community  — and Thomas has continued to share her talent  locally.

Thomas, now 30, said she has always enjoyed fine arts and dreamed of becoming a full-time artist since participating in those first creative classes during her childhood.
"I always wanted to be an artist and wanted to begin a career immediately following college graduation in 2008," Thomas explained. "But it wasn't feasible then and I ended up in retail management for over eight years."
Thomas admitted that following the path that led her astray from her lifelong goals left her exhausted and disappointed.
"That work really sucked the creative life right out of me," she said. "So, I fought to save and open my own space."
Thomas has been on her own professionally now for five years and noted that her life work life now is just as busy and just as demanding — but is far more rewarding.
"Generally I have several projects going at once," Thomas said. "I'm active in the Newnan-Coweta Art Association (NCAA) and often participate in group shows and other projects. I also work on commission pieces like pet portraits, and, when I am able, I offer instruction to a handful of students privately.
The artist added that being a part of Newnan's art club allows local artists to network and gives each artist considerable visibility he or she might not have otherwise.
"The NCAA is a network of artists — each artist in the group has connections to other artists in different places and with varying views and ideas," Thomas said.
With a passion for landscapes, Thomas works mostly from her home studio in Newnan, using sketches and photos. She said she takes the time each week, however, to work outside painting "en plein air."
"Plein air painting is an effort to continue studying," Thomas said. "Those studies have opened my eyes and have brought me new inspiration for future works."
The artist's daily routine includes rising early to begin working before anyone in the neighborhood or at home is awake. Thomas enjoys painting from early morning to mid-afternoon, then she steps away from studio work to run errands, do plein air exercises and find local inspiration.
Though the painter is well-known for her pet portraits, Thomas said she "leans toward nature."
Thomas works in all mediums of paint, from watercolor to tempura, and most enjoys works inspired by the outdoors. Subject matter for the artist often includes flowers, sky, and other colorful outdoor staples.
"In the coming year, I want to work larger and lean a bit more toward abstract works," Thomas said. "I will definitely participate in more exhibits and festivals and focus on creating new, larger pieces."
Paintings by Tiffany Thomas can be found on display at The McRitchie-Hollis Museum in downtown Newnan. The solo show titled "Spectrum" will be available for viewing at 74 Jackson Street through the month of December.
Several additional works created by the artist can also be seen as part of a rotating collection at Newnan's Cancer Treatment Center of America, located at 600 Celebrate Life Parkway. Thomas' work is currently featured and will remain on display through February 2017.
More works by the artist can be found online at www.tiffanythomasart.com .