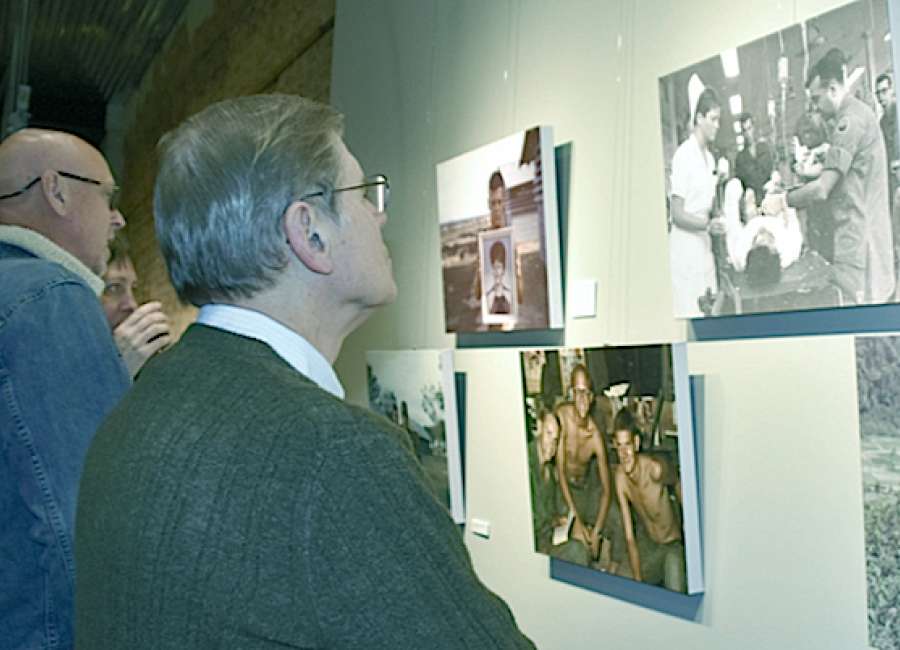 The Suffering Artist Gallery, located in downtown Hogansville, is quickly approaching the one-year anniversary of its grand opening at the end of February 2016.

The gallery's owners, artist and nurse Sarah Swanson and husband Chris have worked together to produce several unique exhibits throughout the year, including large-scale drawings by Swanson herself along with the work of several additional local artists.
But it is the latest exhibit, a tribute to veterans which opened to the public with a reception Nov. 19, however, that has likely garnered the most attention from the community. The show included the works of seven local artists in addition to Swanson, each depicting photos of veterans in a variety of sizes, colors and mediums.
Swanson collected photos of soldiers set against the backdrop of base camps and battlefields across the world. Nearly all of the images were submitted by local veterans and their families.
"The contributing artists chose from the photos of veterans and created one or more works in their chosen mediums," Swanson said, noting that in addition to the collection of art works, several of the submitted images were enlarged and printed on canvas for guests to enjoy.
Shortly after discussing the idea for the exhibit, Swanson found that the project had garnered a significant amount of attention including an offer of sponsorship from nearby Wellstar West Georgia. Co-owner and Newnan High School teacher Chris Swanson was offered assistance by the local high school history department, in addition to multiple student volunteers who would help with organizing and managing the event.
The reception for "A Good Soldier: An Artistic Tribute to our Veterans" included special speakers Representative Bob Trammell, D-Luthersville, and Hogansville Mayor Bill Stankiewicz and record guest attendance.
"It was a wonderful show and a wonderful time in Hogansville," local businesswoman Toni Striblin commented on an event post on Facebook following the event. "The exhibit was wonderful and touching."
Several guests could be heard whispering words of praise for both the art and tribute to veterans throughout the evening of the recent reception.
"The art at the show is incredibly good and powerful," offered Terri Codlin via Facebook. "Thanks to Chris and Sarah Swanson for the brilliant idea and thanks to the artists for the art that lead so many of us on the journey to learn more."
"A Good Soldier" will be on exhibit at the Suffering Artist Gallery, located at 311 Main Street in Hogansville, for the remainder of the year. Contact the gallery for available business hours. Find the Suffering Artist Gallery online at www.sufferingartist.com or call 706-577-5521 for more information.