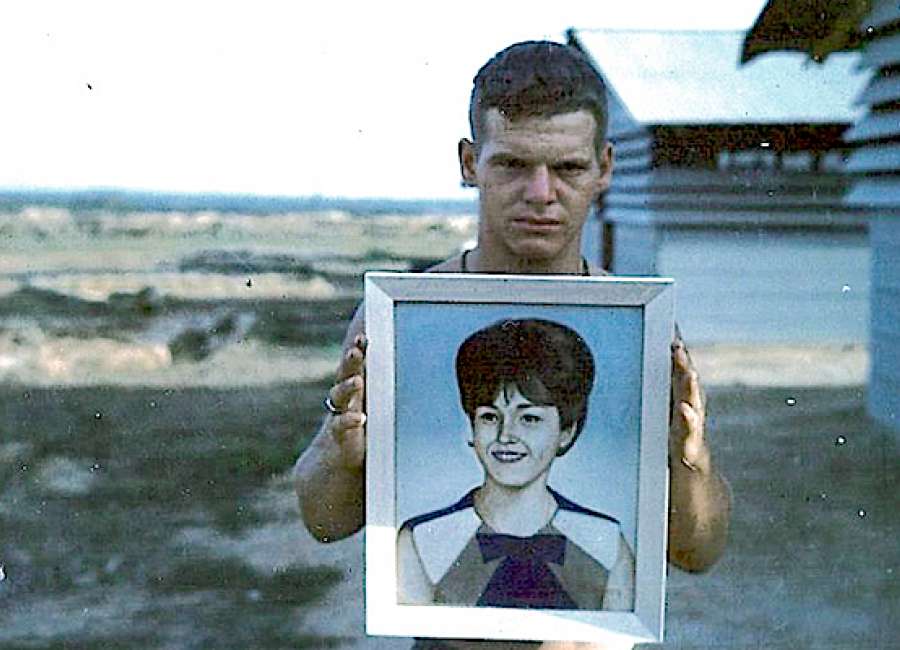 Oftentimes a simple spark of creativity can lead to an idea that inspires many. In the case of "A Good Soldier: An Artistic Tribute to America's Veterans," an exhibit to be held at nearby Suffering Artist Gallery in Hogansville, artist Sarah Swanson wanted to offer an exhibit to honor local veterans.

The artist hoped to offer a collection of mementos from soldiers, works inspired by servicemen and woman, and to invite a few local artists to create pieces based on the theme of honoring those who have served the country in the military.
Swanson discussed the concept for a veterans-inspired show to her husband, Chris, a history and social studies instructor at Newnan High School (NHS). From there, the idea began to blossom.     
"Chris mentioned the show to other faculty members at school, and I started to share thoughts with a few artists," Swanson explained. "Everyone seemed to love the idea and showed a lot of interest."
Steve Quisenberry, Chair of the NHS history program and director of a variety of student-involved local veteran programs, offered his assistance immediately.
"Chris and I discussed the idea and, to me, it seemed a natural outgrowth of what we are already doing in the history department," Quesinberry said. "I offered to reach out to veterans in Coweta."
The artist began to collect photos of soldiers set against the backdrop of base camps and battlefields across the world. The images were offered by local veterans and the Coweta families of military men and women who died during wartime or were killed in combat. Swanson invited eight local artists to create works based on or inspired by the submissions.
"The contributing artists chose from the photos of veterans and each is creating one or more works in their chosen mediums," Swanson said. "All sizes and styles from charcoal drawings to acrylic paintings will be on display."
The project didn't stop there, however. Word spread about the gallery's unique exhibit and nearby Wellstar West Georgia Medical Center offered to sponsor the show.
"We are so thankful to have the assistance of Wellstar West Georgia," Swanson said. "If any funds remain after the show, the money, along with any donations from the community, will go to local veterans programs."
"A Good Soldier" has also garnered the attention of community leaders and government officials, a few of which will offer words to guests during the show's reception on Nov. 19, including Representative Bob Trammell and Hogansville Mayor Bill Stankiewicz.
The veterans exhibit will be formally opened with a reception at 311 East Main Street in Hogansville on Nov. 19 beginning at 6 p.m.
"The show's contributing artists will be in attendance and several of the veterans depicted in the photos and artworks will also be there to talk about the photos and offer the stories behind the images," Swanson said. "History club members and other local students will be on hand to escort the veterans and families into to gallery. It is going to be a wonderful event."
Contributing artists include Sarah Swanson, Thea McElvy, Tara Long, Jessica Morgan, Amber Stidham, John Stidham, and Steve Close. The Newnan Times-Herald reporter and local artist Maggie Bowers will contribute two works.