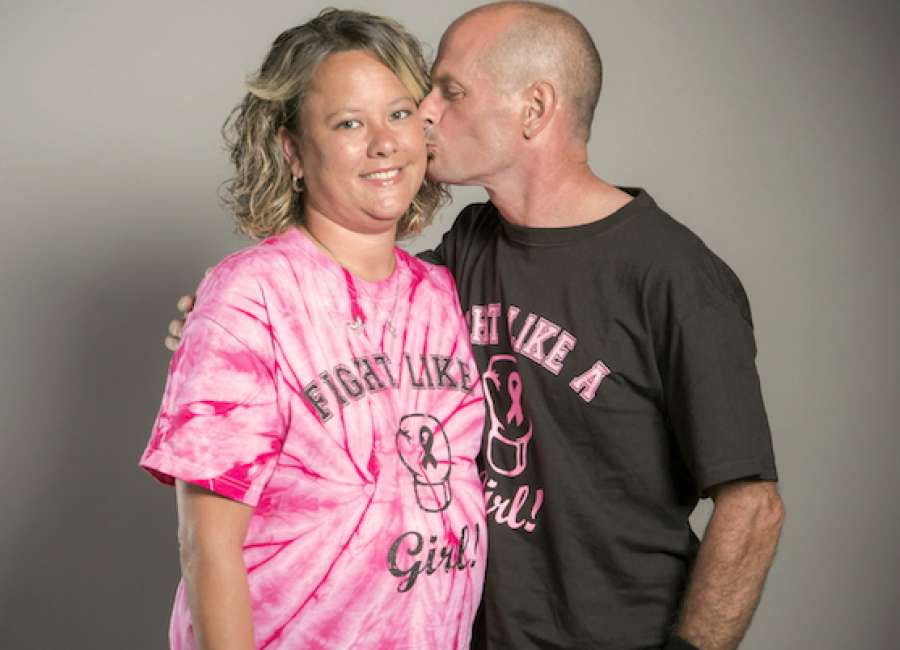 Breast cancer survivor and cancer patient assistant Christie Mons says that above all else, the one thing she wants other women to know about preventing and surviving breast cancer is the importance of self-checking — and trusting one's instincts.

"I discovered what I would later learn was cancer nearly two years ago when I was 38 years old," Mons said. "I found a mass not in my breast, but on my nipple."
She said initially she thought it couldn't be anything serious because the lump was not "typical." It wasn't what she thought she should be looking for — or what she might discover — when doing self-exams at home. But, it was the pain that made her focus on her discover and its potential harm.
"The mass wasn't very big but was sometimes painful," she explained, saying that at times, it felt as though there was a shooting pain, similar to an electric shock, in her breast.
The mother of two decided to consult a close friend first. After a visit to a local swimming pool with best friend Carrie Adams, Mons decided to speak up. She asked Adams to take a look at the lump to hopefully ease her mind.
"We'd been friends for nearly 23 years and I knew if I was going to ask anyone to look, it would be her," Mons said. "When I mentioned it, she asked 'Do you seriously want me to touch your breasts?' and I replied, 'Yes, seriously.'"
Adams recognized the significance of the findings immediately and encouraged her friend to seek a doctor's help. Mons made an appointment with a gynecologist for the following week.
The physician did not express immediate concern with the small mass, but referred her to a technician to receive a breast screening, which included an ultrasound and mammogram. Both professionals informed Mons that she had nothing to be concerned about, and the tests did not indicate cancer.
The pain continued, however, and Mons simply could not let go of her fear. She made an appointment with a breast specialist during Breast Cancer Awareness month in 2015, and it was there that her worries were confirmed — Mons was diagnosed with breast cancer.
"Suddenly, I'm being told I have breast cancer and I'm being asked what I want to do," Mons said. "I was experiencing all of these emotions: anger, sadness, fear. I took a week and then I decided on an aggressive treatment plan."
Mons had been diagnosed with a non-aggressive form of early-stage breast cancer, and thanks to her own early detection, the cancer had not spread far. But because traces of the disease were found in nearby lymph nodes, Mons opted for a complete mastectomy, chemotherapy and breast reconstruction surgery.
The nine-hour surgery focused on removing all of the breast tissue, then borrowing healthy tissue from the stomach to be used for breast reconstruction.
She said the four rounds of chemotherapy were the most difficult part, and like many patients receiving the toxic drugs, she lost her hair. In fact, she faced several obstacles while undergoing cancer treatment.
She found herself weak and confused, rendering her unable to continue working as a dental assistant. Her compromised immune system made her a magnet for illness, preventing her from being able to care for her family.
Her daughter, who suffers from epilepsy, is prone to a higher rate of seizures when under considerable stress and began to experience episodes often. The once-doting mother said she felt as though she couldn't care for her children and began to question her abilities as a caregiver and even as a woman.
"I couldn't get to my daughter, I was too weak to help her," she said. "I lost my "womanly" features — my breasts and my hair. The medications put my body into menopause and I eventually underwent a hysterectomy."
Despite the trials she faced, however, she said she strived to maintain a positive outlook throughout the treatment.
She now works as a patient assistant, helping women in similar situations navigate through the hard times. "I want to help women to try to continue to feel good about themselves throughout the fight. I always say, 'We are together in this, we fight together.'"
Mons said she could not have made it through her fight without the support she was offered through treatment. Her boyfriend, Bob, who stood by her throughout her battle with cancer, has since proposed. "It is so important to have a support system in place," she said.
But first, Mons admonished, do self-exams.
"My intention is not to scare women, but to empower them," Mons explained. "You know your body better than anyone else, and you know when something is wrong. Be sure and do self-exams."