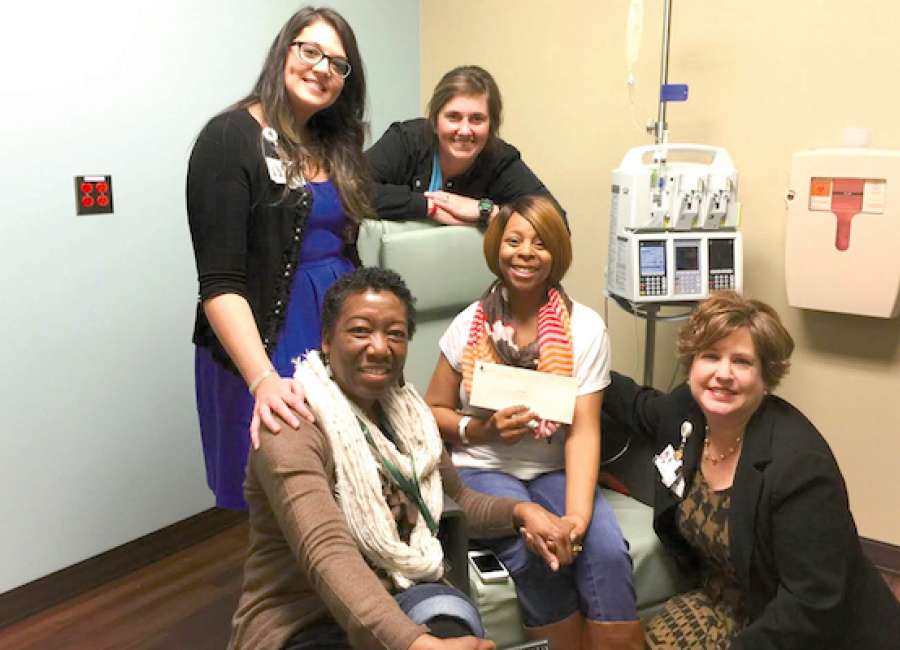 Southeastern Assistance in Healthcare (SAIH) board members are finalizing preparations for one of the local nonprofit organization's most important annual fundraisers — the Friends of the Fight gala. The event, scheduled to take place Oct. 22 from 6 to 10 p.m. at the Newnan Centre on Lower Fayetteville Road, is expected to raise over 100,000 — nearly half of the organization's annual overall goal.
"The community has really rallied for us over the years," said SAIH president Michelle Kent. "It really is a great organization."
According to Kent, the local nonprofit is just one piece of a much larger community that comes together in cities across the nation and internationally to offer assistance to families in need. Money raised benefits cancer patients and their loved ones, but not simply to offset medical expenses. In fact, the organization wants to help with everything else.
"We help with things like rent, utilities, child care and other extra things that many of us don't think about that are needed when a parent, child or other family member is receiving treatment for cancer," Kent explained.
The SAIH organization was established in 2012 and serves Newnan and the surrounding metro Atlanta counties. The nonprofit was formed as a branch of Assistance in Healthcare, the parent organization which began in 1983 when a group of volunteers at the Cancer Treatment Centers of America (CTCA) in Illinois came together to raise funds in support of cancer patients and their families.
The local chapter serves more than just those patients being treated at CTCA, however. Though established by the Stephenson family, founders of CTCA, the Southeastern alliance is a separate organization.
"We help patients receiving treatment at a variety of treatment centers," Kent said. "North Georgia Cancer Specialists patients, and those being treated through Piedmont as well as CTCA and other facilities."
Kent explained that SAIH has no overhead costs, therefore all donations are directed toward patients and their families.
"The board meets monthly and as needed to go over cases and we help nearly 100 patients every month," Kent said.
Money for the families comes from individuals, local businesses and annual fundraisers. Many locals are familiar with the organization's comedic event in which male members of the community adorn dresses and panty-hose and perform in a Newnan pageant. The fifth-annual Dragging for Dollars event will be held in March 2017.
"We often have a number of community leaders willing to leave their dignity at the door to participate in the womanless beauty pageant — which includes a talent portion — for a great cause," said Nancy Mader in a 2015 interview. "We cannot thank community leaders enough for stepping up to the plate."
Other annual fundraisers include Ride for the Fight, a bike ride which involves a 10-, 25- or 100-mile ride and is held in early summer. Softball for Survivors also raises money for the organization in addition to offering concession stands and the sale of t-shirts at the sporting events.
To be considered for assistance, families must meet only one stipulation: the patient must be receiving treatment at the time he or she completes the application, which is available online at www.aih.org/newnan. Cases are reviewed monthly and funds allotted are based on patient and family needs.
"Patients and patient's families can reapply every month, if needed," Kent said. "Whether the patient is given assistance or is denied, he or she can continue to reapply."
The organization, and the funds given to those in need, have increased exponentially since the nonprofit was formed. According to Kent, the Friends of the Fight gala served just under 100 guests at the first event.
"We are expecting nearly 300 participants this year," Kent said.
In past years, the gala event reportedly raised up to $40,000, but after only four years, the organization expects to meet just under half of the annual monetary goal of $250,000.
"The community is wonderful and is doing so many amazing things to help those in need," Kent said.