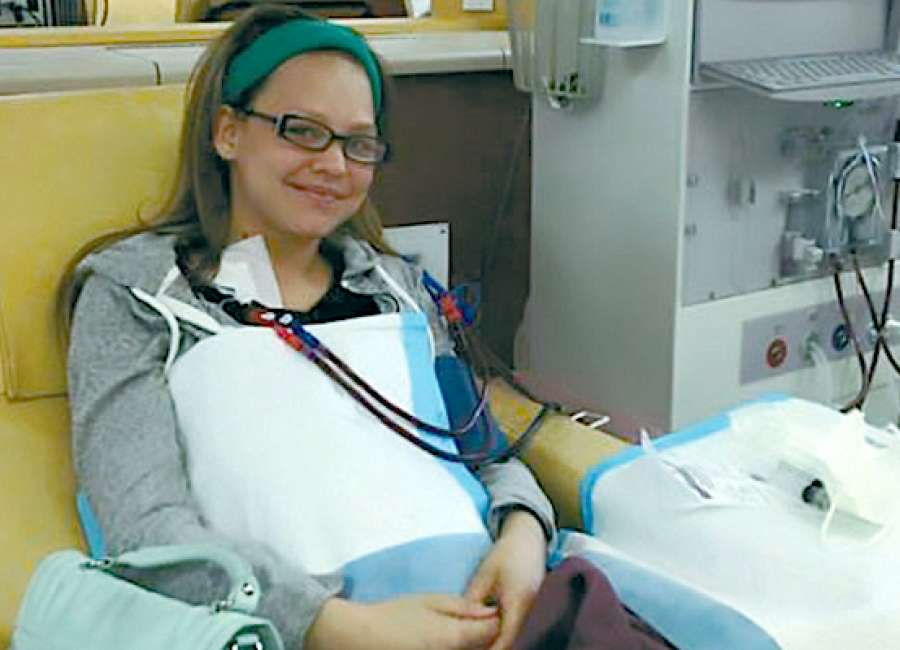 Newnan resident Kayla Stripling celebrated her birthday Tuesday and said that, overall, she has a lot to be thankful for, despite the difficult health issues she has recently faced and will continue to endure to some degree throughout her life.

"This is not the life I expected to live at such a young age," Stripling said in a recent interview. "But, I am thankful every morning that I get to wake up and live it."
Stripling, 27, is currently living without kidneys.
In an average day, healthy kidneys work to filter waste and fluid from nearly 150 quarts of blood, creating urine, according to the U.S. Department of Health's National Institute of Diabetes and Digestive and Kidney Diseases.
The filtering process prevents the buildup of wastes and extra fluid, both of which can be toxic to the body. The organs function to keep electrolyte levels stable as well as contribute to the production of hormones that regulate blood pressure and create red blood cells.   
Nearly two years ago, physicians made the decision to remove Stripling's kidneys after the cadaver-transplant organs failed. Her story was reported in The Newnan Times-Herald in July 2015.
Stripling was diagnosed at the age of 2 with vesicoureteral reflux, a deformity that caused urine to flow backward into the kidneys, leaving the organs with irreversible damage, including scar tissue. Though surgeons were able to correct the internal issue, Stripling's mother, Libby Applegate, was told that her daughter would likely need a kidney transplant in the future.
"The doctors said Kayla would likely experience kidney failure by the time she reached puberty," Applegate recalled in the 2015 interview. "At the age of 12, Kayla went into congestive heart failure." Her kidneys were removed and Stripling began dialysis, a medical procedure used to filter the blood.
At the age of 14, Stripling was given two cadaver kidneys. Even if those types of transplants are successful, physicians expect the kidneys to function for only 10 years on average.
In September 2014, the cadaver organs failed, leaving Stripling to undergo dialysis once again.
In 2015, Stripling was approved for a living donor transplant, which would involve receiving a donor organ from a living relative or friend.
As of today, Stripling remains on two national waiting lists, but said she is considering other options.
"My brother and I discussed the possibility of him being a match," Stripling said. "But I just don't want him — or anyone else — to have to suffer the complications of being a living donor. We are considering using cadaver organs again."
Life on dialysis is no picnic, according to Stripling, and the worst part is being zapped of energy and unable to live the life of a typical woman her own age.
"I still do dialysis three days a week for up to three hours at a time and it is definitely a challenge," Stripling said. "I feel so weak and have no energy after each treatment."
Stripling also suffers from chronic hypertension, a condition that sends her to the hospital often.
"I was hospitalized just two weeks ago for high blood pressure. I woke up in the middle of the night not breathing well and we tried everything to get my pressure down," Stripling recalled. "I had no choice but to go into the hospital. My blood pressure was dangerously high, around 240 over 180. "
Stripling remained in the hospital for nearly one week, a predicament that leaves her feeling confined, lonely and more than a little frustrated.
"I know that dialysis is my only choice. It is my lifeline," Stripling said. "But I am tired and I hope every day to feel 'normal' again. In the meantime I continue to try to go out, have fun with friends and work as much as I can."
Stripling noted that she prays daily for that special call that will give her another chance at a full life.
"But, if the call doesn't come anytime soon,  I know that it is because someone out there needs it more than I do," Stripling said. "I can wait. It is definitely hard, but I can wait."
For those that wish to offer prayers, gifts or words of encouragement, Kayla Stripling and updates on her journey can be found online at  www.facebook.com/kaylastriplin... .