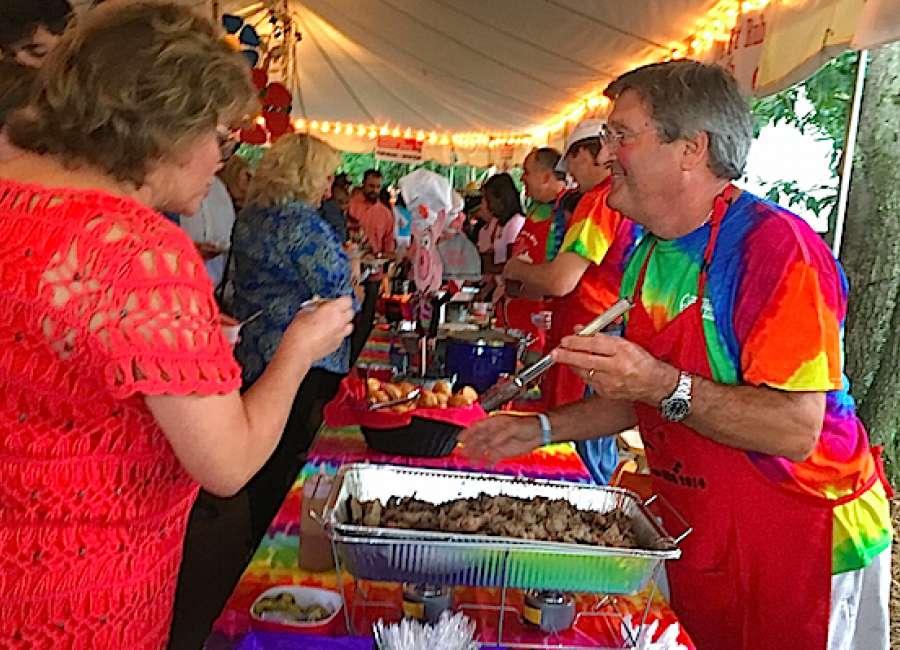 Sometimes helping a local charity involves drudgery and onerous effort. Sometimes it's fun.

The annual fundraising barbecue for the Coweta Samaritan Clinic was pure fun.
About 600 people showed up Sunday evening at Dunaway Gardens for the quirky "Dig the Pig" theme that featured porcine hippies in a countrified atmosphere, including a bluegrass band and 10 competing barbecue teams. If the theme was a little confused, it may be a result of past success in the previous five years' events.
"We've tried to mix it up and keep it sort of fun," said clinic founder, Dr. Kay Crosby.
Professional judges Frank Nocera and Susan Ryan, who have appeared on the Food Network and at bigger contests, came from out of town to judge the barbecue. In case diners didn't trust the judges, they could literally vote with their wallets for their favorite team by dropping cash into labeled bowls in the People's Choice competition.
Anyone with a taste for duck instead of pork could bid in the silent auction for a hunting trip for four in Arkansas via the private jet of a local chef who donated the outing. The bidding climbed north of $6,000 midway during the event.
All together, between the voting, bidding, sponsors, vendor donations and the admission fee, clinic organizers raised about $100,000 during the night.
Crosby was beaming.
"This is wonderful for a lot of reasons," she said. "In part because it helps us get the word out about the clinic."
The clinic offers free medical care to anyone whose income is less than twice the federal poverty level, or folks who don't qualify for any government healthcare, even under the Affordable Care Act. Crosby is the only primary-care physician who sees patients almost daily at the clinic since the death of Dr. Earnest Barron this year. Replacing him hasn't proved easy, but she's hoping to find someone else, perhaps like her, who is retired after growing fed up with assembly-line medicine after 20 years in private practice.
But specialists around town agree to treat clinic referrals in their own offices, and other healthcare providers offer their services as well. A row of signs that dinner patrons passed listed all the doctors who pitch in.
The small staff of volunteers and nominally paid professionals say they're motivated by the opportunity to help the needy and enjoy their service at the same time.
"We have a good time, and we all love it," said Peggy Lawton, the nurse administrator, who like many of the staff retired from a health profession to join the clinic.
However, most of the crowd at the dinner work in other fields besides medicine. Some were there just for the social event, but many have demonstrated their commitment to the clinic, Crosby said.
"When we started, I didn't know what I expected," she said of the clinic's 2011 launch. "It's better than I imagined. The community has rallied around."