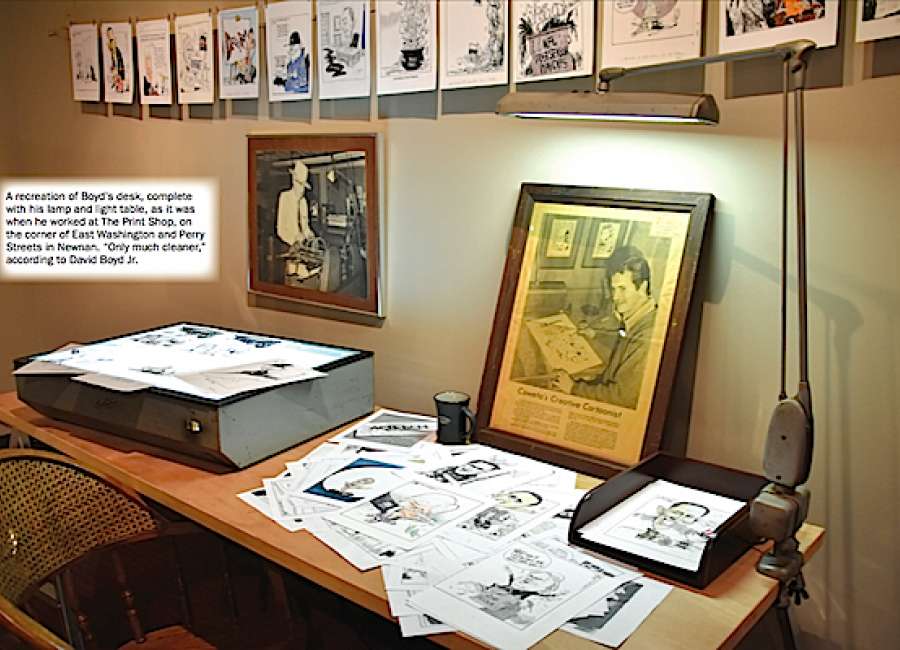 Well known locally for his long-time career as a cartoonist and illustrator, R. David Boyd Sr. offers a collection of original works on display in Newnan.  
Boyd is widely noted for his political cartoons and as illustrator of Jeff Foxworthy's "You Might Be a Redneck…" series, among others. The artist, recently retired, began his career more than 40 years ago with the political, passion-driven and often comical illustrations created for print in The Newnan Times-Herald.
For the first time, a collection of original illustrations by the long-time artist has been compiled and will be on display for public viewing. The exhibit, "The Life and Art of R. David Boyd," is open at The Donald W. Nixon Centre for Performing and Visual Arts and will conclude with a reception Tuesday at 4:30 p.m.
"Nothing was really planned," Boyd said in an earlier interview regarding his works and career. "It just played out wonderfully well."
Son and artist David Boyd Jr. said the exhibit and subsequent reception is an opportunity for his dad to discuss his works and career.
"He can really talk about the art of what he did," the younger Boyd explained. "Often people think art like his is easy to create."
Sacrifices were made by each family member for Boyd's career, and the illustrations were not completed quickly or in the span of a weekend.
"For starters, he would have to get angry enough about what was going on in the world to create a cartoon depicting it," Boyd Jr. said. "The news cycle then was different. It was constant."
Father and son agree that the exhibit reflects not only the evolution of the older Boyd's illustrations and other works through time, but reveals the passage of time, the changes in the role of the media, and the public's passing interests in the world.
According to Boyd Jr., his father once didn't even consider himself an artist and was unsure of how he would thrive in the profession.
"Dad would always say, 'I'm no good at this,' or 'This is hard,' but he never really saw himself as a working artist, and he didn't know what it was to be a professional artist," the son explained.
Boyd Jr. has uncovered more than a few memories along the way while helping his dad sort through the large collection of works and thinks his father will be pleased with the exhibit. He has also stumbled upon several pieces he hopes to share with the public in the future.   
"There are small sculptures and the Redneck figurines," Jr. said.
The illustrator's son added that there are multitudes of sketches and other little things the public and Boyd Sr. fans would enjoy viewing or even purchasing.
"Dad always said he sold more work out of his trashcan than in any other way," Boyd Jr. said. "Because he would start so many sketches and then toss them."
"The Life and Art of R. David Boyd" is available for public viewing during regular business hours at the Nixon Centre through Oct. 31. The Nixon Centre is located at 1523 Lower Fayetteville Road in Newnan.
For more information about this and other exhibits, events and performances at the Nixon Centre, visit the centre online at www.thecentreonline.net or call 770-254-2787.