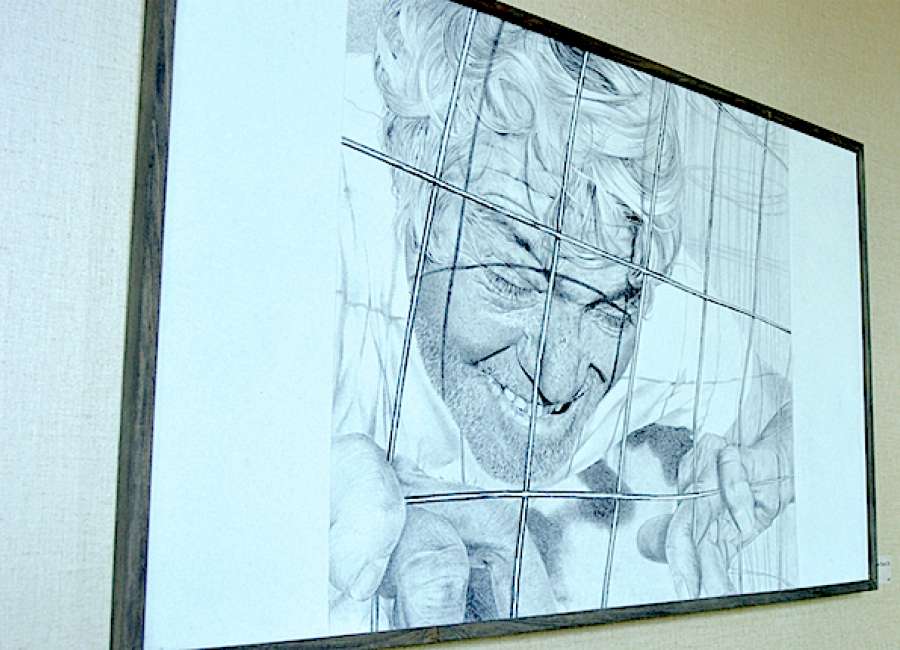 Work by Hogansville-based artist Sarah Swanson is currently on display at the Donald W. Nixon Centre for Performing and Visual Arts in Newnan. 
Centre Director Cathe Nixon said Swanson is a good example of what she hopes the local performing-arts facility stands for within the community.

"One thing I love is that she is a local artist," Nixon noted. "Also, she is in the caring profession being a nurse and I think that piece of her comes out in her art."
The artist's husband, Chris Swanson, an Economics instructor at Newnan High School, is also well-known in Coweta. The husband and wife team often work together to execute the design and curation of Swanson's exhibitions.
"The Centre is truly an extension," Nixon said. With an artist like Swanson, "we are truly extending not just the classroom, but into the healthcare community and just the local collective."
Several new works by Swanson are included in the Centre exhibit, many of which incorporate mixed media elements in addition to the artist's favored medium of dark, graphite tones on paper. The artist and educator couple also manage a gallery in Hogansville known as The Suffering Artist studio, where, currently, works by fellow artist Ray Stewart are on display.
It was Brittney Henderson, assistant to the director, who first fell in love with Swanson's large scale, emotion-evoking portraits and felt compelled to have the artist exhibit in the future.
"I saw her show when she had her grand opening at her gallery in Hogansville," Henderson said. "Her work really stood out to me — especially the large portrait of the doctor — and I thought it was fabulous. Phenomenal. And, I brought the idea to Cathe."
Swanson's works will remain on display in the main entrance gallery at the Centre, located at 1523 Lower Fayetteville Road in Newnan, through September 9.
The Centre offers several fine art exhibits throughout each season including painting, sculpture, floral design and other displays of local talent and creativity. The Centre's director noted that when it comes to events, she hopes to include even more arts and creative exhibits and performances in the future.
"We like variety. The more different arts that we can show to people the better," Nixon said. "For me, art is not just painting, it can be so many different things."
Nixon also noted that, in her mind, every person has a creative talent, but in many cases, it has not yet been discovered.
"We all have talent, we just don't know it and don't know how to use it yet," Nixon said. "By exposing people to more and more kinds of art, we can embrace who we all are as artists."
For more information on upcoming gallery exhibits, concerts and performances at the Centre, visit performing arts facility online at www.thecentreonline.net , call 770-254-2787 or email TheCentre@CowetaSchools.net . A calendar of upcoming events with an option to purchase tickets can be found at http://thecentreonline.net/cal... .