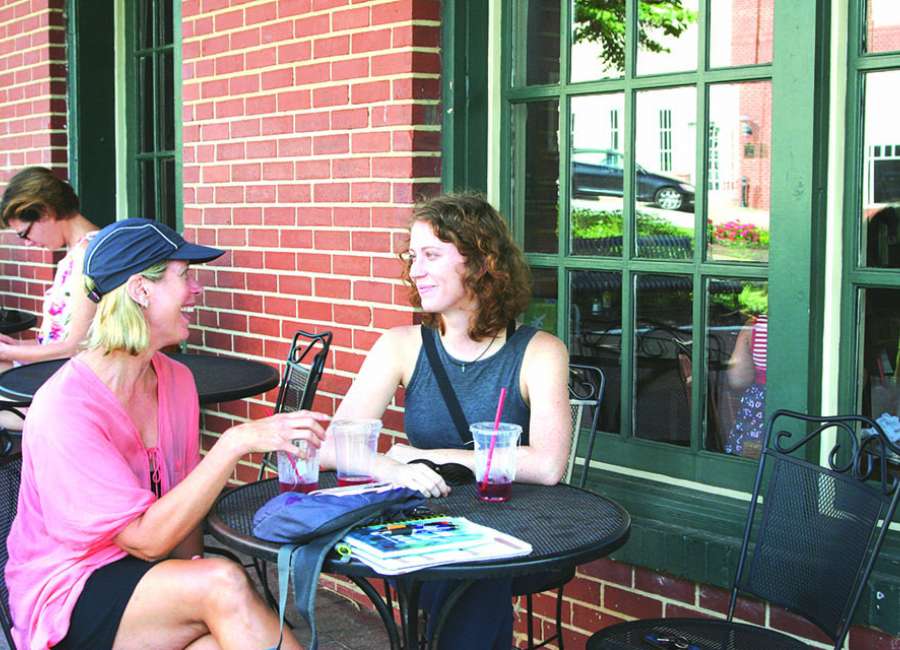 The cities of Grantville and Senoia may be recognized for their small-town feel and as filming hubs for the Walking Dead, but now the two cities are being recognized for being a safe living community for their residents.
Niche.com, which specializes in ranking neighborhoods, schools, etc., ranked Senoia as the No. 3 safest metro-Atlanta community and Grantville at No. 8.
Assault, murder, robbery, burglary, vehicle theft and larceny rates were measured in Niche's study, which analyzed data from the FBI and U.S. Census.
City Manager Al Grieshaber said the recognition was good news and was achievable with the organization of the police department. 
"This is not about us," he said. "This is about our community working together, and yes, that does make us feel good. This is a very good, positive example of our community making a transition and working together for positive results in the city of Grantville."
Police Chief Steve Whitlock has been with the city for 18 months and said he can see an improvement in police and community trust. 
"It's not only us, but  the community also," Whitlock said. "Our officers get out and talk to citizens. They don't just get out and ride around. It's really changed a lot. A few weeks ago, we had prayer for all public safety, and we had a huge turnout. This shows the community does care."
Whitlock said the biggest crime problem within the Grantville is traffic on Interstate 85. According to Whitlock, 2016 crime statistics showed no homicides, no armed robberies,  22 thefts, seven burglaries and one aggravated assault for the city. 
Lt. Cliff Schriefer also agreed that community policing is the key to keeping crime down in the city. 
"We brought it back," he said. "It's not all about working traffic, but getting out and speaking with people. If you see someone out in their yard, talk to them. We put trust into our citizens, and in return, they put their trust into us."
Leigh Ann Bullock has been living in Grantville since 1993. Although she briefly moved away, she said she couldn't wait to move back.
"My kids grew up here," she said. "I do feel safe here, and I love our officers here. I love the small-town feel. Everybody knows each other; everybody's family, and everybody looks out for each other."
East of Grantville in Senoia, City Manager Richard Ferry said the police department has made many improvements since a 2006 study was conducted by the Georgia Association of Chiefs of Police to give recommendations for improvement to make the department more effective. 
"It has always been a goal to be a safe community, but never our intention to be recognized for this," Ferry said. "We felt this was our duty and job to do. Our police department is a certified police department, and with that certification comes a lot of work."
In order to be certified, departments must maintain certain criteria and develop certain policies and procedures to maintain their certification, such as complaint resolution and evidence handling. Certification is evaluated every three years. 
According to the 2010 U.S. Census, the population of Senoia was 3, 700, but Police Chief Jason Edens believes the current population may be between 4,000-5,000 based on growth and the number of homes that have been built in the last six years.
"Since 2006, things have been approved upon," Edens said. "The police department works like any business. You must have a homebase or an area that you can work in, so the city focused on adding personnel and a new police facility with proper evidence and interview rooms and proper meeting areas."
Edens also commended the officers on being active in the community.
"We hire officers that are willing to get on foot and walk and talk for hours at a time," he said. "It's a community-oriented effort to be known and seen by the citizens we are serving. By doing this, we are able to know which vehicles belong in which driveway, in front of which houses, and it's easily identifiable if someone is not where they're supposed to be. So, we're able to react and respond to that. The community's been a huge help."
Although the city may be known as a speed trap, Edens said that regular monitoring of speeding keeps fatalities, crashes and even crime down. 
Allison Garrett is a Senoia resident and business owner. She moved to the city from Fayetteville four years ago.
"I like it here very much," Garrett said. "I like the town's vision for growth within the city. The police presence in the community is comforting. I see officers patrolling multiple times during the day."
According 2016 crime statistics from the Senoia Police Department, the city has had one homicide, no robberies, 12 assaults and two burglaries so far this year.