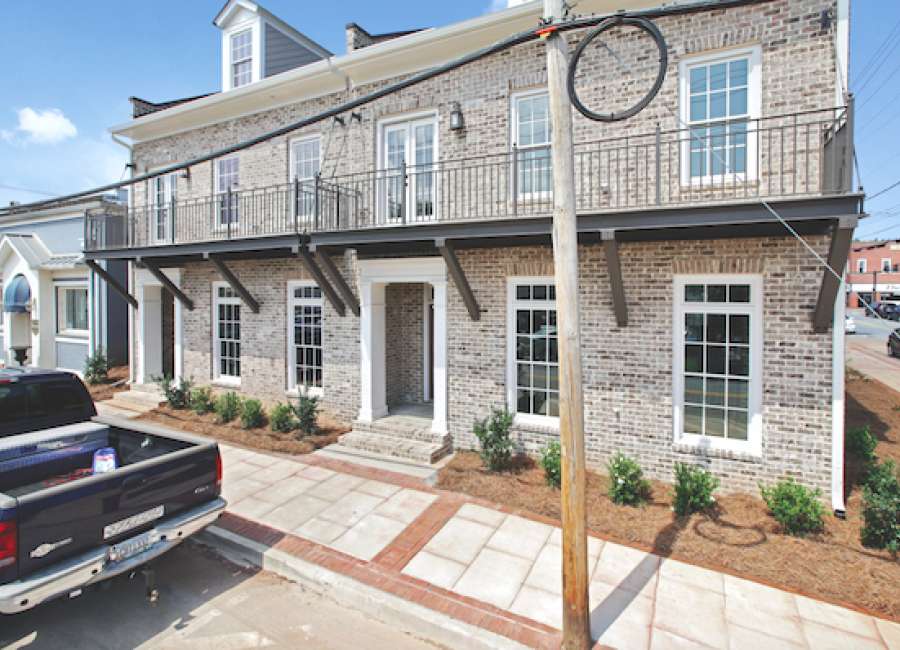 The downtown's first new residential construction in 30 years is complete and on the market, but casual observers' initial reaction to the asking price leaves some scratching their head.
The townhomes on the corner of Perry and Madison Streets are offered for $495,000.
According to zillow.com , an online rental and real estate marketplace, the median price of homes currently listed in Newnan is $229,900, which puts the homes almost $300,000 above average. 
But that may not be a good comparison, according to the father-daughter team that built and is marketing them. They say the ways the new homes are different from the century-old structures in the rest of downtown is what makes them worth the extra price.
The two Savannah-style townhomes are 2,000 square feet with a courtyard and a garage in back. Other amenities include hardwood floors, a fireplace with a gas-starter, stainless steel appliances and an optional storage or office space on the third floor.  
McKinney & Son Builders Inc. began construction on the townhomes earlier this year and contractor Mac McKinney said that he believes there is a need for more residential housing in downtown.
"First, we had to work with zoning," he said in a previous interview. "Changes had to be made to allow for residential building in a commercially zoned area."
"The demand for downtown living is there," he said. "When the economic crisis hit, I moved to a spec home (home for sale) we had in Serenbe. When I came back to Newnan, I realized how much traffic there would be at night in downtown."
McKinney's daughter, Evan, is a real estate agent and will be listing the home with Atlanta Fine Homes Sotheby's International Realty. She said that downtown Newnan is a great location because of the growth.
"Historic downtown Newnan is actually very busy," said Mac McKinney. "The square and downtown area have seen a revival. It has become more successful because of the shops and restaurants."
Evan McKinney said she realizes the prices are in the higher end of the market for downtown Newnan, but she believes being the most recent new construction in the area and the low maintenance is what helps set the price.
"This means no yard to cut, no constant upkeep, painting, and updating, and replacing broken systems as you would have in a historic home," Evan added. "These have a one- year builder warranty, and the buyer gets a beautiful home, walking distance to restaurants, nightlife, and the shops of downtown Newnan. 
"They were designed for efficiency. There is no space in these homes that would go unused. Everything was thought out and designed with a purpose."
She also added there is an  shaft for anyone who decides to add an elevator.
"The price is also derived from the quality of home the consumer is getting," she added. "They were built to EarthCraft standards with thermal pane windows, icynene (blown-in) insulation, energy efficient appliances."
Evan said the consumer gets the three main selling factors of design, quality and location. 
Local Realtor Alexis Shepherd said she has not seen the homes in person, but has heard about them. 
"I do know some fellow Realtors that have seen them and have commented on them being overpriced," Shepherd said. 
The agent also said the new homes, which she believes have some attractive amenities,  could be ideal for those who are empty nesters, retirees, a single person or newly engaged couple.
City of Newnan Business Development Director Hasco Craver said he supports the project and feels there is a need for residential units in the downtown area.
"Not only does higher-density residential development bring customers of local products and services to the downtown district, it helps create a balance of land uses that prove to be vital during the ups and downs of real estate cycles," he said in an email statement. 
McKinney has been building homes since 1969. McKinney & Son is also a member of the distinguished Southern Living Custom Builder Program in which Southern Living carefully selects custom home builders.