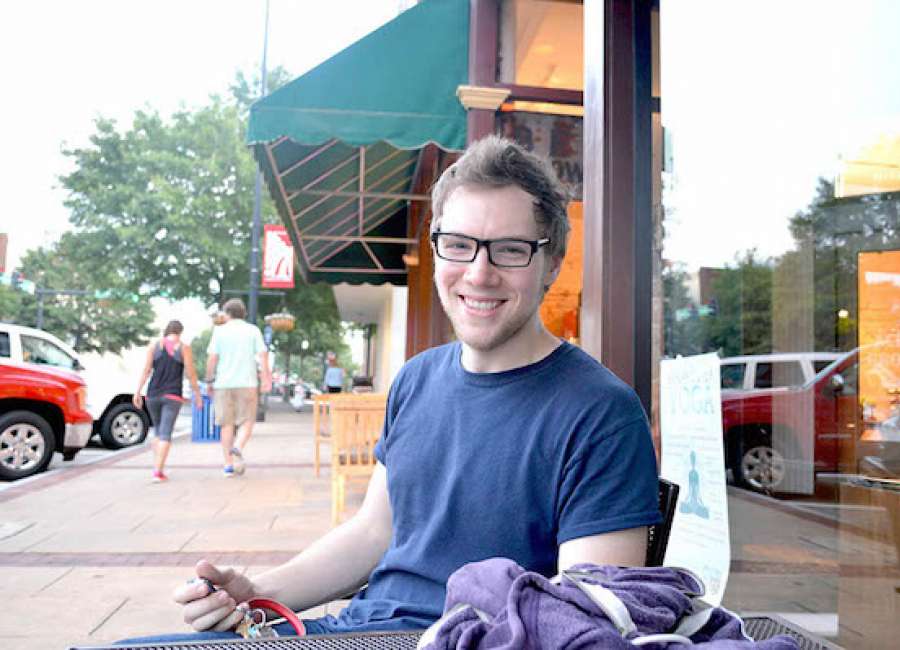 East Coweta graduate James Allen McCune got hooked watching "The Walking Dead" in its first season.

A few months later, he was doing customer service at a motorcycle company and was miserable. His girlfriend at the time suggested he call his agent about getting a part on the zombie show being filmed in Coweta.
"That's not really how it works," McCune said. But the aspiring young actor contacted his agent anyway.
"He immediately emailed me back, which is rare. He said, 'It's funny; we just submitted you for this part, which they turned you down for. But if you can get here in the next 30 minutes you can read for it. We'll sneak the tape in, and hopefully they won't realize they turned you down."
"I've never driven so fast in my life," McCune said. He was trying out for the part of Jimmy, Beth Greene's ill-fated boyfriend.
Actually getting the job was not what he expected. McCune joined the cast at an odd time. Producer Frank Darrabont was on his way out, and there was upheaval.
"I didn't realize it at first. I was just happy to be doing something other than customer service. I was shocked when someone said, 'Here is how things are supposed to be, and here is how they are, and they aren't great.'"
"I was on one of the biggest shows of all time, and no one knows who I am on it. I was there for 10 episodes, but I really didn't do anything."
That is, until he fails to escape from an RV being overrun by flesh-eating walkers, and suffers a gory fate.
Greg Nicotero, special effects director, occasional director, and now a co-executive producer for the show, wanted to make sure Jimmy went out with a bang.
"He said, 'If you're going to get rid of this kid, it can't be nothing.' He fought for me," McCune said.
Producer Gale Ann Hurd told McCune that, if he wanted to make it, he needed to move to Hollywood.
"I did, and everything changed."
As someone who didn't grow up wanting to be an actor, "I had this perception of how the industry worked that was completely separate from how it actually is. I thought once you get to a certain point, you book something big and will be doing something the rest of your career."
But that's not how it is, unless you're a really big movie star.
McCune remembers talking about it with Laurie Holden, who played Andrea on "The Walking Dead."
"She's been in all these great movies, and she's had an amazing career so far," McCune said. But "she was almost terrified of leaving because she was afraid she would never get work again."
Finding that out was like a punch in the gut. He realized "even people who I thought had made it, haven't. They are constantly worried that that is the last thing they will ever do."
After "The Walking Dead" but before moving to California, "I had a whole six months of constant work, and people were asking for me."
He was on an episode of "Homeland" and a few other shows.
Then he moved to L.A.
"Nobody wanted me or cared. Which was the most necessary thing I've ever had in my entire life," McCune said. "If I hadn't had an entire three years foundering I wouldn't have had any idea what it was like to work for a job."
"I thought, I'll get a bigger part. Then I'll get my own TV show.
"I discovered that was completely wrong and wildly ignorant and arrogant. I'm super fortunate I got kicked in the nuts right when I landed."
When you're an actor, "you're working on commission. You specialize in one thing, and that's yourself. You've got to hope that's what the market wants."
People who move to L.A. don't do it to better themselves. They do it to make money, McCune said. But Georgia has its benefits for an aspiring actor, too.
If you want to make it in the movie and television business, you're in the right place. Only California and New York have more film and television productions than Georgia.
"The market here is perfect for anyone starting up," McCune said. "I have friends in L.A. who have lived here their entire lives and have never worked. I tell them – come here."
Before the upcoming "Blair Witch" movie, which will open in theaters this September, McCune's biggest role was in "Shameless," a Showtime series about a deeply dysfunctional family.
"It's not the most well-known show, but people who watch it a lot are crazy about it," he said.
McCune played Matty, the 20-year-old love interest of 14-year-old Debbie Gallagher.
When Matty and Debbie meet, he doesn't realize how young she is. When he finally does, he tells her they can only be friends. After a series of plot twists, Debbie ends up getting Matty drunk and raping him.
A line from the show, "friends don't rape friends," has become something people who recognize McCune will sometimes call out as he's walking down the street.
"If you're not privy to why somebody would say that to somebody, it sounds really bad. That's like the weird 15 minutes of fame I got."
Their age difference was controversial. And uncomfortable for McCune.
"I feel like the show did it well. I was very proud of how it came out. It was just really hard."
The actress had a hard time with it, and so did her parents – who were always on set. "I was like, disturbing a child and her parents. The whole cast was very protective of her, also."
Especially with the rape storyline.
"It was hard to talk to my friends about it. I had very few people that I felt comfortable talking to about it," McCune said. "It's like – my job is to make a 14-year-old uncomfortable. That was not super cool."
The rape was very controversial, and there was a big fuss.
"It was like this silly thing around a very serious topic…. When the show came out, it blew up. People lost their minds about it."
After the episodes aired, McCune sent out a few tweets, saying that they weren't trying to mock anyone struggling with having been raped, only to bring awareness.
He was at the gym when he sent out the tweets. "I got this enormous outpouring from victims. There were tweets of people saying 'I've never told anyone this before,' saying 'I have been raped.'"
One man told McCune he was the first person he'd ever told that he'd been raped. The men thanked him for "respectfully bringing up something that people make fun of all the time."
"It was heartbreaking. I went from doing crunches at the gym casually, to sobbing," McCune said. "That was hands-down the greatest thing.
"I haven't done much good in this world, but I think that episode changed my priorities for why I did the job. Up until that point, it had been 'I need to work to make money,'" he said.
But at that point, he realized, "'Oh, you're here to make people forget about the really crappy stuff in their lives, for at least 30 minutes.' That's pretty nice to have an actual therapeutic purpose for something, even if it's small."
"I don't know if that sounds really self-involved, to say I want to help people by acting… but with the small group of people I talked to that night – if I can ever do that again for somebody, I want to."