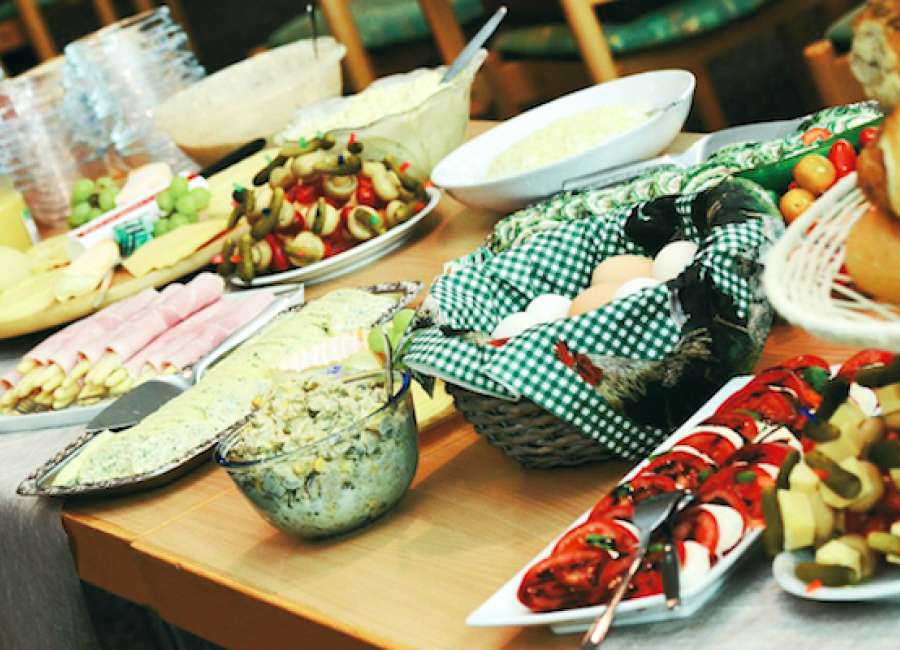 We all have so many events to attend in the summer months that require us to bring a dish. Those events are so much fun because we get to share everyone's cooking and they each always bring their very best-tasting dishes.

Some of the most-loved dishes are pasta salads and desserts. These dishes are also fun and easy to make — so I thought I would share some of them with you.
I wish there was room for all of my top favorites. I'm sure the opportunity will arise to share more in the future. None of these salads has a mayonnaise-based dressing and all are easy to keep fresh for outdoor events. Let's make some great take-a-longs.
•••
Greek Pasta Salad
16 ounces of any short pasta (rotini, bowties, penne)
1 English cucumber, diced
1 pint of grape tomatoes, cut in half
1 bell pepper, diced
1 cup sliced pitted olives (I simply drain a can of the medium ones and cut them in half)
1 cup of cubed or crumbled feta cheese
1 cup of red onion, diced
1 bottle of Greek vinaigrette dressing
Cook the pasta al dente according to package directions. Rinse under cold water and drain well.
Combine all the ingredients in a large bowl and toss with the dressing.
Refrigerate a couple of hours.
•••
Buffalo Chicken Pasta Salad
This recipe can easily be doubled for a family event.
8 ounces of penne pasta
1/2 cup of Frank's hot sauce
1/2 cup of olive oil
1 tablespoon of lemon juice
1/2 teaspoon of garlic powder
1/2 teaspoon of onion powder
1/2 teaspoon of celery salt
2 cups of chopped precooked chicken
1 1/2 cups of crumbled blue cheese
1 cup of diced carrots
1 cup of chopped celery
Cook pasta al dente according to package directions. Drain and rinse with cold water. Drain well again.
Whisk together hot sauce, oil, lemon juice, garlic powder, onion powder, and celery salt until well combined.
Place pasta in a bowl. Stir in chicken, blue cheese, carrots, and celery
Mix in dressing. If it seems a little dry you can add more olive oil and hot sauce.
Refrigerate until you are ready to serve it.
•••
Pizza Pasta Salad
This is another salad that can easily be doubled to serve more people.
8 ounces of any type of pasta
1/2 of a diced green pepper
1/2 of a diced red pepper (or you can simply use a whole green pepper and omit the red one)
1 1/2 cups of cherry tomatoes cut into quarters (you can use grape tomatoes and just cut them in half - whatever is available)
1 cup of diced mozzarella
1/2 cup of chopped red onion
1/2 cup of sliced black olives
1 /4 cup of mini pepperoni
1/2 cup of Parmesan cheese
chopped fresh basil to taste
1/2 of a bottle of Italian dressing
Cook pasta al dente according to package directions. Rinse under cold water and drain well.
Combine pasta with red and green pepper, tomatoes, mozzarella, onion, olives, and pepperoni.
Toss pasta with the dressing (however much you think looks perfect).
Top with fresh basil and Parmesan cheese.
Refrigerate until ready to serve
•••
Easy and Delicious Peach Cobbler
28- or 29- ounce can of peaches in light syrup, drained (the BIG can), drained
1 cup of milk
1 cup of self-rising flour
1 cup of sugar
1 stick of butter
a teaspoon or two of cinnamon
Preheat the oven to 350 degrees. Drain the peaches and set them aside.
Melt a stick of butter in the oven while it is preheating in an 8x8-inch baking dish
In a separate bowl, mix together the flour, sugar and one teaspoon of cinnamon. Pour in the milk and stir until blended.
After the butter is melted, take it out of the oven and pour the batter on top of the butter. DO NOT STIR.
Using a spoon, set your peaches down all over the top of the batter. DO NOT STIR. And don't move them around after you place them. Just be happy with wherever they are!
If you want to, you can sprinkle about a tablespoon of sugar and a teaspoon of cinnamon over top of everything. It makes a sweet crunchy topping.
Bake for 45 to 55 minutes until the center is set and it's nice and golden.
You will love this recipe because it can be made year-round and is incredibly good.