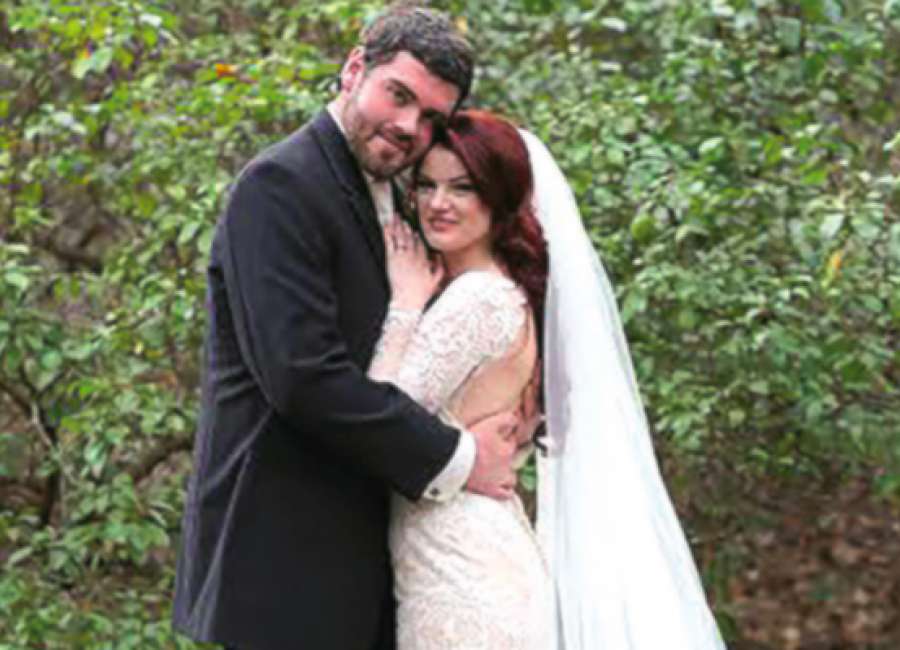 Bethany Hope Leak, daughter of Jonathan and Denise Leak, of Senoia, Georgia, became the bride of Chad Austin Reaves, son of Roger and Carlene Reaves, of Lacey, Washington, on December 20th, 2015, at the Ida Cason Callaway Memorial Chapel in Pine Mountain, Georgia.
Reverend Jim Ladd officiated the ceremony. Miss Abby Hynson, of Peachtree City, Georgia, rendered a program of harp music for the ceremony. Lauren Cibene, sister of the bride from Woodstock, Georgia, was the Matron of Honor. The other Bride's Attendants were: Chrisandra Corne- liussen of Oslo, Norway, Callie Coggin, of Newnan, Georgia, Samantha Tennant of Chicago, Illinois, and Lizeth Perez, of Kona, Hawaii. They wore vintage fur jackets over their sequined dresses of champagne gold. They carried bouquets of seeded eucalyptus and mixed evergreens which were created by Mrs. Heather McInnis.
Flower girls to the bride were her two young cousins, Miss Allison Guiteras and Miss Lily Guiteras, both of Dover, Delaware. The groomsmen wore classic black tuxedoes with, champagne vests and ties. Coen Reaves and Grady Reaves, both nephews of the groom from Olympia, Washington, served as best men. The other Groom's Attendants were: Timothy Cibene of Woodstock, GA, Ethan Leak, and Joshua Leak, both of Senoia, Georgia and

brothers of the bride. The bride entered the Gothic-style, stone chapel to Canon in D harp music escorted by her father, Jonathan Leak. She chose an Oleg Cassini gown of ivory, sequined lace over a blush polished cotton with an open back and full-length lace sleeves. She wore a cathedral-length lace veil. Her bouquet was created by Bedazzled Florist of Sharpsburg, Georgia, and consisted of ivory garden roses with a blush center, seeded eucalyptus, white spray roses, honey bracelet, wax flowers, and silver dollar eucalyptus, all wrapped with a champagne satin ribbon at the stem.
Following the ceremony, a Georgian Dinner reception was given by the bride's parents at the Cal- laway Gardens Discovery Center. The bride danced with her father to a guitar rendition of "Landslide", played by her brother, Ethan Leak, and her cousin, Shepherd Leak. Mr. Chad Reaves is pursuing a degree in Business and Christian Ministries from Emmanuel College in anticipation of a career in Missions Ministry.
Mrs. Bethany Reaves is a professional harpist and is a Certified Music Practitioner with MHTP. She is pursuing a degree in Biology from Emmanuel College in anticipation of a career in Marine Science. After their wedding trip cruise to the Caribbean, Mr. and Mrs. Reaves currently reside in Royston, Georgia. (Photo Credit: Blackbird Photography, Marietta, GA)