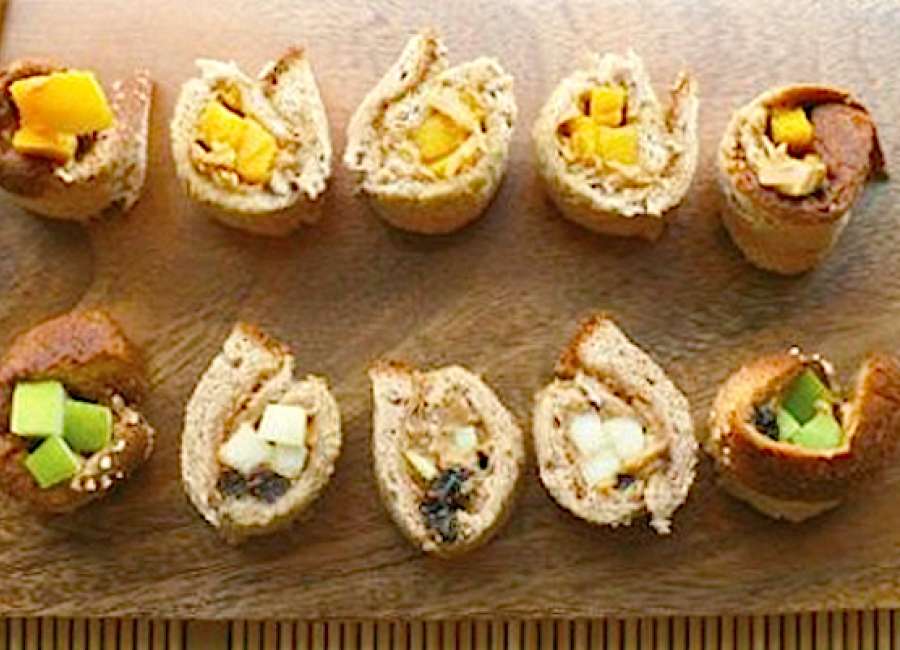 Backpacking is on the agenda for many families this summer as a low-cost way to bring everyone together during the warmer months.
Though the pastime requires some preparation, including preparing simple, packable foods, hiking through local parks and camping under the stars is a popular way to rediscover nature and enjoy a healthy, active lifestyle.

Nutrition and hydration are important when considering any number of outdoor activities, particularly those that involve a large amount of walking and climbing in warm temperatures. And though backpacking generally requires carrying food with you, the items packed do not necessarily have to be prepackaged or flavorless and unhealthy foods. In fact, many freeze-dried, store-bought items meant for travel are high in sodium, low in nutrition and costly.
These meals and snacks can be prepared at home, and can offer any adventure-loving family a fresh, healthy option while hitting the trails together.
•••
Peanut Butter and Fruit "Sushi"
By Joanna Miller (http://www.thekitchn.com)
makes 4 rolls
Ingredients:
4 slices whole wheat bread
1/2 cup peanut butter
1 Granny Smith apple or 1 mango, sliced into 1/4-inch strips
1/4 cup raisins or 1/4 cup toasted coconut
Juice of 1/2 lemon (optional)
Equipment: sushi mat, plastic wrap, rolling pin or tortilla press
Instructions:
If you're using apples and won't be eating the rolls right away, toss the strips with a little lemon juice.
For the rolls, start by flattening the slices of bread. We used a tortilla press lined with plastic wrap, but a rolling pin would work fine, too. Cover the sushi mat with plastic wrap. Spread peanut butter on one slice of bread, covering the whole slice. Add desired fillings horizontally on the bottom third of the slice.
Using the mat, carefully roll from the bottom of the slice, tucking the ingredients under. Pull back the mat and plastic wrap and finish rolling the bread. Use the mat to shape and secure the roll. Slice into 5-6 pieces. Repeat with remaining slices of bread.
•••
Dark Chocolate Cherry Energy Bites
Ingredients:
1 cup whole raw almonds
2/3 cup lightly packed pitted Medjool dates
1/2 cup dried cherries
3-4 Tbsp dark chocolate chips
1/4 cup raw pecans
1 or 2 pinches fine sea salt, to taste
Directions:
In a food processor, process the almonds until finely chopped. It's ok if some bigger pieces remain. Just be sure not to pulverize it into a flour, as you'll want some texture.
Remove 1/3 cup of the processed almonds and set aside for the final step.
Now, add the pitted dates and dried cherries and process until finely chopped and sticky. A dough ball will start to form.
Add in the chocolate chips and pecans and process until they are chopped. Add salt to taste and pulse the mixture. Finally, pulse in the reserved 1/3 cup almonds. If the dough is too dry to roll into ball, add water, a teaspoon at a time, until the dough comes together.
Roll into small balls. Place in a container or baggie and store in the fridge or freezer.
Tips:
This recipe makes 1 and 1/2 cups of packed dough….mmm. I've concluded it's impossible not to eat it straight from the processor!
•••
Blueberry Apple Pie Trail Mix Balls
Ingredients
1 container of Steve's Paleo Goods Apple Krunch Cereal
¼ cup Dried Blueberries
¼ cup sunbutter (or other nut butter)
¼ cup raw honey
1 teaspoon cinnamon
pinch of salt
Instructions
Mix everything together.
Shape into balls.
Place in the fridge for 30+ minutes to set.
Eat up!
•••
Foil-Packed Veggies

Ingredients
1 red bell pepper, cut in ½ inch strips
1 onion, cut in ½ inch wedges
1 zucchini, cut in ½ inch coins
1 cup sugar snap peas, trimmed
2 Tbsp olive oil
1/2 tsp garlic powder
1/4 tsp salt
Directions
Preheat barbecue to medium-high.
Cut four 12-in.-square pieces of foil.
Divide pepper, onion, zucchini and peas among foil squares. Drizzle with oil, then sprinkle with garlic powder and salt. Toss to coat. Close and crimp foil very loosely over vegetables, creating a packet.
Barbecue foil packets, lid closed, flipping halfway through, until vegetables are tender-crisp, 5 to 7 min. Remove packets and let stand 2 min before opening. Serve with One-Pot Mac and Cheese.
Make-ahead tip
Prepare veggies and wrap in foil packets. Keep in cooler until ready to cook.
•••
Campfire Quesadillas
http://www.cupcakediariesblog.com/
Ingredients
4 medium flour tortillas
2 (8oz) chicken breasts, grilled and sliced
1 jar Tostitos salsa con queso
1 can black beans, rinsed and drained
1 c. shredded Mexican blend cheese
tin foil
Instructions
Spread 1 Tbsp salsa con queso over one side of a tortilla.
Place 1/4 c. chicken on half the tortilla over the salsa con queso. Sprinkle 1/4 c. black beans and about 1/4 c. cheese over the chicken.
Fold other side of tortilla over to cover ingredients. Place on a piece of tin foil large enough to cover the quesadilla. Leave the ends open.
Place the foiled quesadilla on the grate directly over the campfire. Keep over fire until cheese is melted and tortilla is crispy.
Remove from the grate and cut in four pieces. No plates needed because you have the foil!
If you don't want to cook the chicken on your camping trip, cook it ahead of time and bring it with you to build the quesadillas. You can also prep the other ingredients before your trip, so all you'll have to do is throw the quesadillas together!