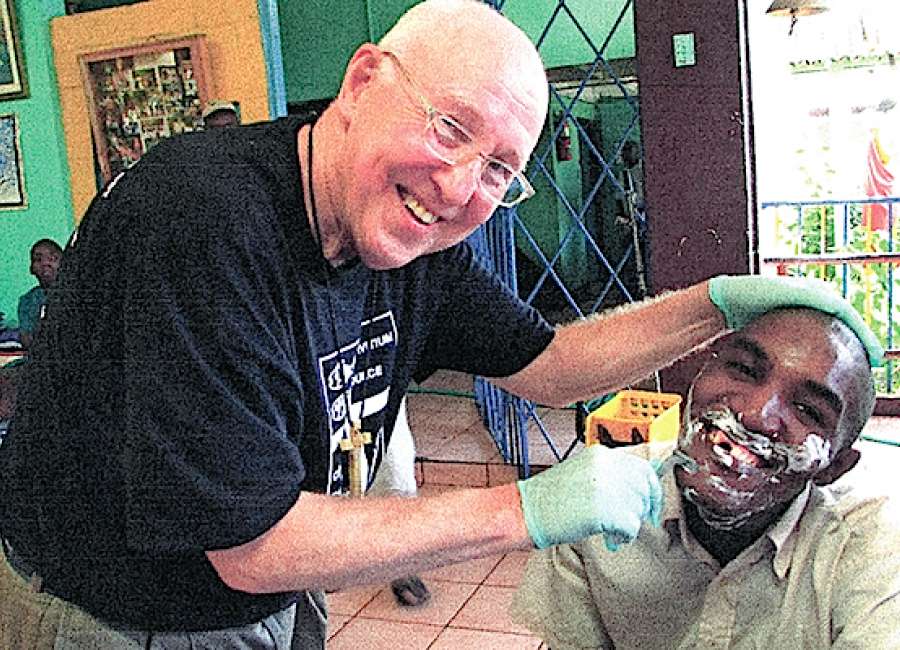 Area Knights of Columbus have received recognition for their work with the Missionaries of the Poor in Jamaica.

The service award was presented at the annual Knights of Columbus Georgia State Convention in Savannah. State Deputy Mark McMullen, leader of the Georgia Knights of Columbus, recognized local Knights councils for their work.
Annually, service awards are presented to Councils for superior work in six categories – Church, Community, Council, Family, Pro-Life and Youth. Sharpsburg Council 12862 and the local councils in District 19 were recognized as second runner-up in the Church category for their work in providing assistance to the Missionaries of the Poor in Kingston, Jamaica.
In 2014-15 there was a district-wide project aimed at providing nutritional sustenance to the poor. The effort resulted in the buying, storing, shipping and delivering 142 100-pound bags of rice to Kingston. "This quantity of rice is sufficient to feed 500 residents for 288 days or 9.6 months," local Knight Mike Midas said.
The District 19 councils participating were Council 6622, Newnan; Council 8081, Peachtree City; Council 11458, Fayetteville; and Council 12862, Sharpsburg.
"The Knights of Columbus is a fraternal organization for Catholic men," Midas said.
Values espoused in the Knights are charity, unity, fraternity and patriotism. Founded in 1882 by Father Michael J. McGivney, the Knights of Columbus has grown to 1.7 million Knights worldwide today.
"There are 11,000 Knights of Columbus in Georgia," Midas said.
Missionaries of the Poor was founded in 1981 by Father Richard Ho Lung. Ho Lung left the Jesuit order and returned home to the slums of Kingston. "Father Ho Lung began with nothing more than an indomitable faith in God and a burning love for his fellow human beings," Midas said.
Ho Lung led the Missionaries of the Poor to "fulfill their presence in our world, living a life of poverty, chastity, obedience and joyful service to the least of our brothers and sisters." Catholics from Coweta County have traveled to Jamaica to be part of that work.
Today, with some 550 brothers and 14 priests, the Missionaries are present in the slums and impoverished areas of Haiti (2), Jamaica (7), Kenya (1), Uganda (1), India(2), the Philippines (2), Indonesia (1), and the United States (1).
In Jamaica, the Missionaries operate the Lord's House which offers housing, food and care for handicapped men. Midas is among the volunteers to visit there to help.