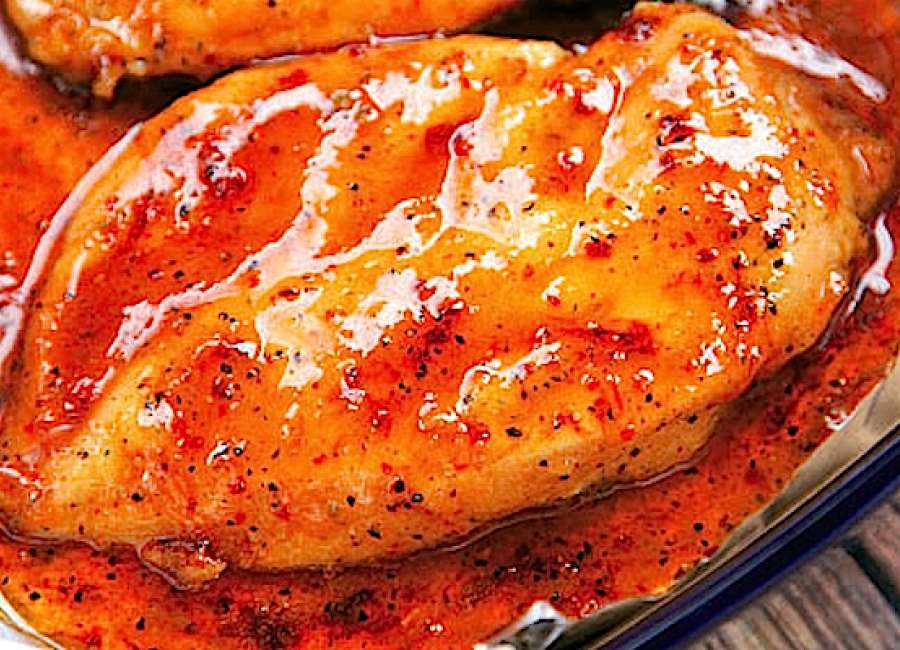 When it comes to summer cooking, making it easy is key. The less time spent in the increasingly warm kitchen, the better.
Barbara Wetherington, a local favorite home cook, recommends uncomplicated planning and easy meals (with big flavor).
Barbara's main dish of Brown Sugar Italian Chicken includes three simple ingredients that offer a flavorful that is both simple and sweet - and can be prepared and baked in less than 30 minutes.
Summer-friendly side dishes begin with seasonal veggies and a cooking method that easily coincides with the main dish. Barbara's Roasted Green Beans and Mushrooms can be baked at the same temperature as the sweetened chicken and for the same length of time.
Bacon and Cheese French Bread is an addition Barbara warns that those who enjoy may not want to share - and the ten minute side can follow the main and side dishes in the preheated oven. Prepare the cheesy, ranch and bacon french bread slices while serving the summer meal and enjoy the tasty side fresh from oven.
Finally, Barbara includes a dessert that puts an adult spin on fun and light kids' favorites with Creamsicle Fluff. By combining Jello, pudding, fresh summer oranges and a dollop of whipped cream, this creamy, popsicle-inspired dish is a seemingly perfect summer dessert.
•••
Brown Sugar Italian Chicken
4 boneless skinless chicken breasts
1/2 cup brown sugar
1 envelope dry Italian dressing mix
Preheat your oven to 400 degrees. Line a 9 X 13-inch baking dish with aluminum foil. It will make clean-up a breeze because that hot brown sugar is sticky.

Stir together the brown sugar and Italian dressing mix and use it to coat both sides of your chicken breasts. Place in the baking dish and then use any remaining brown sugar mix on top of the chicken.

Bake for 20-25 minutes and then turn your broiler on for about 1 or 2 minutes to caramelize the brown sugar. Watch very carefully so the sugar doesn't burn.
•••
Roasted Green Beans and Mushrooms

This can be baked at the same time and temperature as your chicken. Put it in the oven while you put your chicken together and the timing will be perfect. Just be sure to remove it before you turn your broiler on for the chicken.

1 pound of fresh green beans (you can also use a pound of frozen green beans that have been thawed)
8 ounces of sliced fresh mushrooms (I love those packages of already sliced and cleaned mushrooms that are readily available at the grocery)
1 tablespoon of olive oil
1 tablespoon of balsamic vinegar
1/2 teaspoon of garlic salt
1/4 teaspoon black pepper
Preheat oven to 400 degrees.
Toss all of the ingredients together and spread out in a baking dish. Bake for 25-30 minutes.
•••
Bacon and Cheese French Bread
This is so incredible and I love to make it when my nearest Kroger store has those fresh French loaves for a dollar. You could make a meal out of this alone, just because it's so good you won't want to share... but please do, so that the rest of the family doesn't get mad at you!
The broiler part of this can be done at the same time as the broiler part of the brown sugar chicken. Just lower the oven to 350 degrees and the bread will be ready by the time your family gets ready to eat.

I have found that there is no need to let your oven cool to 350 degrees because ovens cool quickly and the bread only stays in for 10 minutes.
4 tablespoons of softened butter
1/2 teaspoon of garlic powder
1 loaf of French bread that has been split in half lengthwise
2 cups of shredded cheddar cheese
1/2 cup of cooked chopped bacon (or one of those packages of real bacon bits to make it easier)
1 cup of ranch dressing Preheat oven to 350 degrees.
Spread the butter on your split bread and sprinkle on the garlic powder. Place the bread under the broiler for 1 or 2 minutes until it is slightly toasty. Combine the cheese, bacon and ranch dressing and spread it evenly over the bread. Bake for about 10 minutes until the cheese is melted (longer if you want it really crispy but I do the 10 minutes just to melt the cheese). Let it sit a minute before you slice it.
•••
Creamsicle Fluff
If you make this ahead of time and have it waiting in the refrigerator, it is the perfect light ending to a summer meal.
1 small box of orange jello
1 small box of instant vanilla pudding
1 cup of boiling water
1/2 cup of ice water
1 (8-ounce) tub of cool whip
1 (14-ounce) can of well drained mandarin oranges
Combine the orange jello and boiling water. Mix well to dissolve and then stir in the ice water. Chill for about 30 minutes. Whisk in the vanilla pudding mix until nice and smooth and pop back into the refrigerator for about 30 more minutes until it has thickened. Fold in the cool whip and the oranges and let it chill about an hour until it's set. If your little ones love them, you can also add mini marshmallows when you add the oranges.