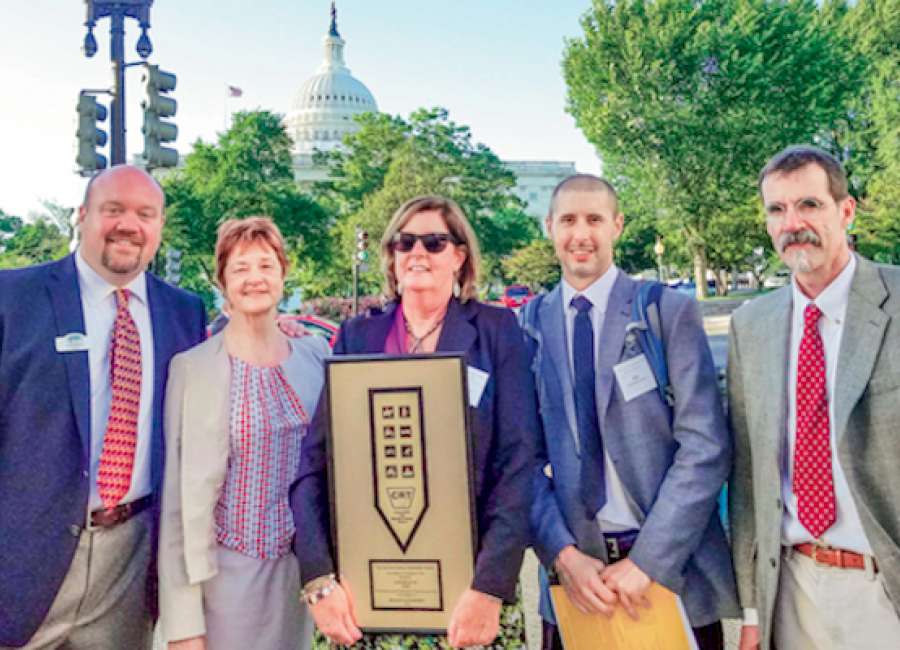 The Cochran Mill Park Trail project was recently nationally recognized for their use of Recreational Trails Program funds.

The park, located in southeastern Fulton County, was named winner of the Coalition for Recreational Trails Annual Achievement Award for outstanding use of Recreational Trails Program funds in the Maintenance and Rehabilitation category.
This category specifically addresses maintaining, repairing damage to, or upgrading the quality of a trail to improve the trail experience, increase user safety, and/or enhance protection of the environment, including wildlife.
On Wednesday, an award was presented at a special ceremony on Capitol Hill. Mayor Tom Reed, Parks Commission Chair Maribeth Wansley and members Diana Wilson and Roland Alston, Volunteer Trails Team Leader Pete Edmonson and Fire Chief (and interim Public Works and Parks Manager) Gregg Brett were in attendance to accept the award.
"We are truly honored by this award and recognition, which could not have been accomplished without the incredible and dedicated volunteers we have here in Chattahoochee Hills," expressed Diana Wilson – the Parks Commission member who facilitated the grant process.
"Maribeth (Wansley) and Diana (Wilson) have really done some amazing work to get the park where it is today," said Robert Rokovitz, city manager of Chattahoochee Hills. "It's primarily a volunteer effort out there and the results are incredible."
One of the creative ways of generating revenue for the park is through ticket enforcement, according to Rokovitz.
A single day pass is $5 for the use of the park. However, police are giving parking offenders the option of paying either a $50 fine or purchasing a season pass for $25 until July 1.
"It's a way we hope to encourage people to keep using the park and generating revenue," Rokovitz said. "All the money goes back into the park."
The chairman of the awards committee, Duane Taylor, stated that he was delighted to see Chattahoochee Hills earn this special recognition which illustrates how community involvement really does make a difference.
American Trails and organizations across the country are working together as the Coalition for Recreational Trails to build awareness and understanding of the Recreation Trails Program (RTP), to support its effective implementation, and to help ensure that it receives adequate funding.