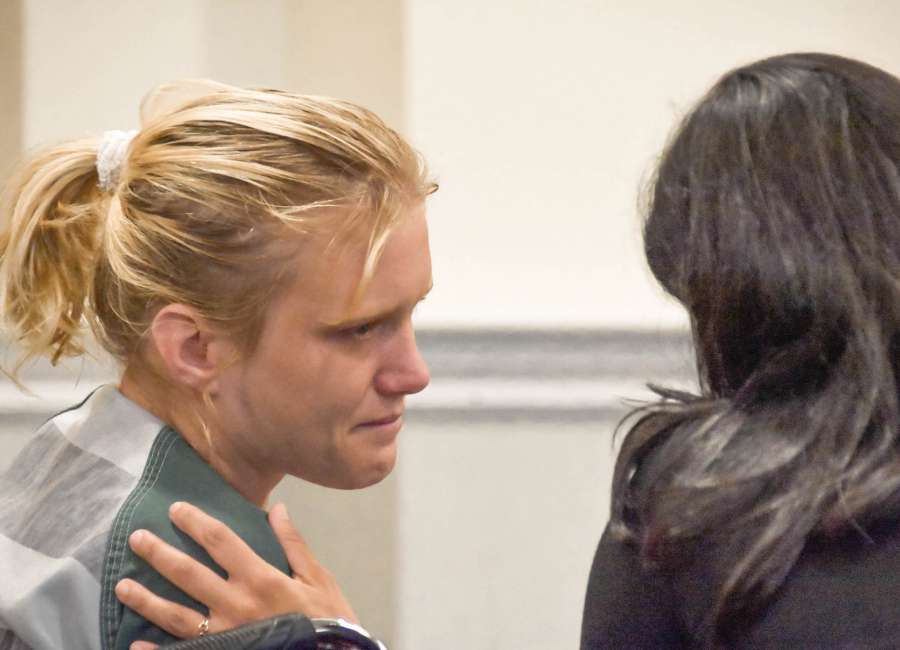 A woman charged with the deaths of two people in a suspected drunk driving accident was denied bond Friday.

Judge Jim Stripling denied bond for Katie Renee Pyles, 31, who is charged with two counts of vehicular homicide and open container violation, among other charges.
Pyles was escorted into the bond hearing in a wheelchair and became emotional when her prior arrests involving alcohol were brought up, including a previous DUI and open container violation only weeks before Monday's fatal crash.
Neil Fernander, 51 and William Johnson, 34, were killed when Pyles ran a stop sign on Cecil Hunter Road, colliding with Fernander's truck on Hwy 54.
Assistant District Attorney Robert Mooradian argued that because of Pyles' history of erratic behavior, her release would pose a significant risk of danger to the community.
In 2016, Pyles was arrested on three separate occasions for open container, felony theft by taking auto and disorderly conduct.
In Friday's hearing, Mooradian presented evidence from a witness who saw Pyles' truck run the same stop sign at Cecil Hunter Road just 30 minutes prior to the fatal accident.
"There are no conditions this court could impose that would protect our community from Pyles," Mooradian said.
Pyles' attorney, Azadeh Golshan, argued that her client's current physical condition would make her unable to operate a vehicle and unable to walk without assistance.
Golshan said granting bond would allow Pyles to see her children and get her affairs in order, regardless of the case's outcome.
The use of an ankle monitor was also voluntarily offered by the defense.
Judge Stripling said Pyles' ongoing issues with substance abuse were alarming.
"I'm convinced there are no set of circumstances that the people of Coweta would be protected by future acts while under the influence of alcohol," Stripling said. "I feel that if enough stress was placed upon you, it's very likely you would once again drink alcohol and act kind of crazy."
While the bond hearing was under way, Fernander's funeral was taking place a few miles away at Crossroads Church.
During the hearing, Mooradian read a statement from Fernander's family expressing sorrow and frustration over his death.
"Our loss is devastating and he's irreplaceable," his sister wrote. "She killed the most precious thing in the world.
"Given the many outstanding warrants on the person who took Neil's life, this tragedy could have been avoided," she added. "Please disallow bond and keep the world protected from this person."
****
Clay Neely: @clayneely