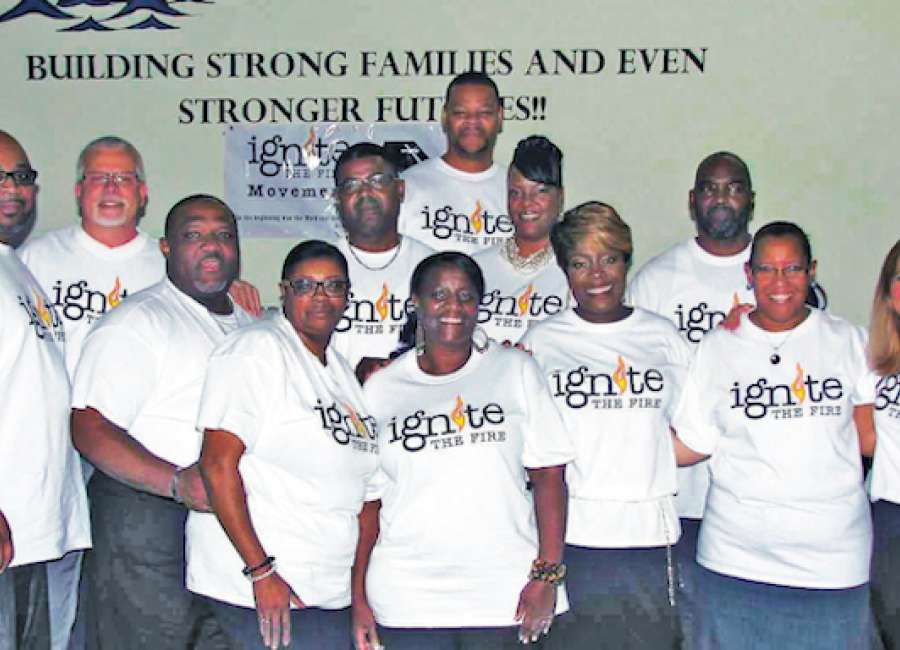 "We need to pray."

Apostle Debra Harris's message is not as simple as it might seem. The faith leader puts as much emphasis on the "we" as on the "pray."
Harris recently retired from an education career to move into fulltime ministry. The pastor of Lighthouse Faith-N-Action Ministries, Inc. has been gathering with a group of likeminded church and ministry leaders, who call themselves The Summit. Their shared goal, she said, is "to bring the community together, to say to people 'we've got to do better,'" to move past cultural divisions.
Ignite the Fire, the first community prayer rally to grow from the conversations and prayer times among the pastors, is set for April 16 at 9 a.m. at the Greenville Street Park in downtown Newnan.
"We have different cultural characteristics. But God has shown me this is a tool for the enemy – the black, the white, the Hispanic – to keep us separated. We cannot allow this to keep us separated," Harris said.
"We're not asking for anybody to give up their church," Harris emphasized. Still, she reflected on the great needs – spiritual and otherwise – that affect all people.
"At some point, we have to say, 'Let's come together for this activity," she urged.
The Summit has brought several black and white pastors together – with Ignite the Fire as their first project goal. A Latino pastor recently joined the coalition.
The prayer focus on April 16 will be government officials, police officers – "people in any leadership position," Harris said.
Harris said it is important for everyone to look beyond stereotypes and cliches. The word "all" has extremely limited validity – whether the group being described is a demographic subgroup or an occupation.
"Let's stop looking at things the wrong way. Let's start looking at things through the eyes of Jesus. That's through the eyes of love," Harris said.
The Summit meetings have already led to other plans. There will be a community outreach program offering referrals and information on area services at Willie Lynch Park on Wesley Street on May 21 from 9 a.m.-noon.
Harris has also had a dream to address problems in a broader context, but she said her prayer life led her to focus on what is happening close to home. Still, she had hoped Ignite the Fire would move beyond Coweta's borders – and it already has.
A Troup County pastor attended one of the meetings in Newnan and is already seeking to replicate the project in Troup.
"To show strength, we're going to have to work together. This thing is far, far greater than anything that we understand," Harris said. "If Coweta County will catch on fire, it will move on from there."
For more information on the project visit www.ignitethefire.info.
Inter-denominational prayer is a spreading phenomenon in America's religious landscape. Prayer participation in the United States is setting new records in 2016 with gatherings that unite Christians from multiple streams of faith, according to Christian News Service.
With the new trend, prayer in America is expanding locations from the private "prayer room" to group prayer. In 2016, there are a record number of national prayer events scheduled including the National Day of Prayer, World Day of Prayer, United Cry DC16, Azusa Street Revival, Rez Week and The Response.
"There are more large prayer gatherings in 2016 than I've seen in 26 years of ministry," says David Butts, president of Harvest Prayer Ministries and chairman of America's National Prayer Committee. "I've seen waves of prayer before but in addition to filling stadiums, this year there is exceptional collaboration among diverse streams of faith."

Participation in prayer events is growing. "In 2016 we are anticipating the largest National Day of Prayer in US history with more than 49,000 prayer gatherings," said John Bornschein, vice chairman of the National Day of Prayer Task Force. "Over the last five years we charted a 226 percent increase in engagement, which is the largest growth in 25 years."