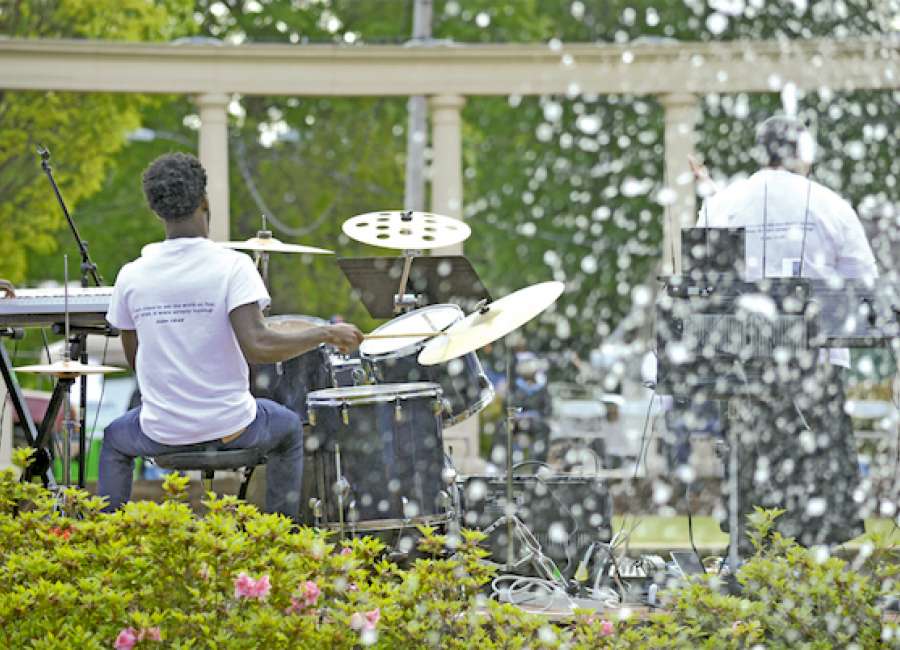 More than 50 locals gathered at the Greenville Street Park simply to pray, meditate and be united with the community.

The April 16 community prayer rally, an event dubbed "Ignite the Fire," began at 9 a.m. in the Newnan park — the first gathering of its kind to arise in the Newnan.
Despite the cloudy weather and the early-morning chill, locals began to appear and be seated in the small outdoor amphitheater. Participants were welcomed by gospel music performed by a local church ensemble. Apostle Debra Harris, pastor of Lighthouse Faith-N-Action Ministries, Inc. led the community in prayer, following the music.
"We come together in supplication," Harris began and noted that all of the participants gathered together for the rally were a "united front." Harris added that everything the community does to show faith in God is like a lance, or a sword, held in defense against evil.
"Thanking Him is a lance," Harris said. "Coming together in his name is a lance. Prayer is a lance."
The local pastor added, "Let's gather those lances! Get those lances ready!"
The prayer rally included participation from several community organizations including a local school choir. Several students from Ruth Hill Elementary School, located in Newnan, attended the Ignite the Fire event, and were able to come together in song for the audience.
"I'm here with Ruth Hill Elementary and we are singing a song called, 'I Can Make it,' said Ansleigh Mahone. The Ruth Hill students noted that the choral instructor, Tiffany White offered the chorus the opportunity to sing at the prayer rally, but did not require it of the class.
"My best friend and I decided to join chorus together this year, and it has been a lot of fun," Mahone said. "We agreed to come here together today to do this, too."
The idea for the local event was mentioned during a discussion amongst Apostle Harris and several other local ministry leaders earlier in the year. The meeting was part of a faith-gathering known as, "The Summit."
According to Harris, the group's main objective is to bring the community together, particularly in an effort to move past cultural divisions.
"We have different cultural characteristics," Harris said in an interview prior to the prayer rally. "But God has shown me this is a tool for the enemy — the black, the white, the Hispanic — to keep us separated."
A website was created to give the public more information about The Summit and the group's overall purpose, as well as to bring attention to the cause.
"To show strength, we're going to have to work together," Harris said in an earlier interview. " … if Coweta County will catch on fire, it will move on from there."
Ignite the Fire is the first event to grow from The Summit meetings, and the idea is indeed spreading — like wildfire.
Additional events have already been scheduled and can be found at www.ignitethefire.info/events .