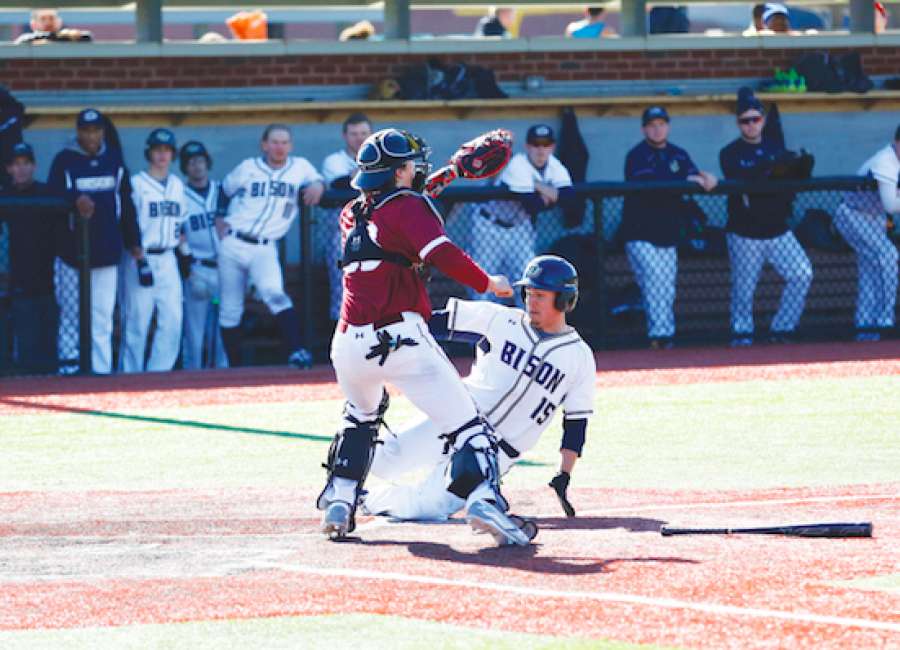 She was attempting to tell me how proud her and her husband Randy were of their only child, but her voice kept cracking. It was hard to hear her clearly. "I'm sorry, I'm starting to get emotional," said Kim Crawford as we spoke by phone, days after her son Zack was named the North Eastern Athletic Conference (NEAC) Baseball Player of the Week. A junior third baseman at Gallaudet University (D.C.), Zack was diagnosed with severe neurological hearing loss at the age of two, but continues to laugh in the face of his "impairment."
Gallaudet is not only the nation's sole private federally chartered university for the deaf and hard of hearing, it's also home to very strong Division III baseball, basketball, football and softball programs. Through seven games this season, Zack's hitting .458. During a pair of double-headers this past weekend, he went 8 for 13 at the plate while scoring eight runs for the Bison. He hit three triples, drove in four runs, and walked four times. How's that for a handicap?
According to his parents, Zack has been playing baseball since he was three years old, from the beginning the game spoke to him and he listened. "His passion for baseball has been there since he was a little boy," says Kim. "He's overcome every obstacle he's had to face with such dignity and he's never given up on his dream." Kim has been teaching the children of Newnan and Coweta County for 27 years at Ruth Hill Elementary School, and knows a good student and hard worker when she sees one. "We're proud to call him our son, not only because of his accomplishments on the baseball field but because of the student and young man he is becoming." Now I'm starting to cry.
Gallaudet University officials feel the same way. "Zack Crawford is the type of player that you want all members of your team to emulate," said Bison Head Coach and former Major League Baseball player and Atlanta Brave Curtis Pride. "Most importantly, he is a quality human being and commands respect from others. I could not be happier that he is playing well. He deserves it."
"It's been great to see Zack's transformation over the course of the past three years on the baseball team," says Assistant Athletic Director for Communications John-Samuel Atkinson. "Beyond his play, Zach was named to the Dean's List this past semester. "
A member of the Newnan High School Class of 2013, Zack and his family were deciding on where Zack would continue his education and had heard about Gallaudet University through his long-time interpreter Sue Laria. Sue passed away on Dec. 14, 2014 and soon after Laria's passing Zack changed his number seven to number 15, the number of Sue's favorite athlete, Tim Tebow.
A math major, Zack has figured out how to master the art of being a student-athlete while
attending school 679 miles away from his hometown. His parents are never too far away though, "We just came from up there a week ago," says Kim.
"Zack was a hard working kid," says current Newnan High School Baseball Coach Marc Gilmore, who was an assistant when Zack played for the Cougars. The player Zack Crawford is today is far from the rarely used player he was at Newnan. "He comes from a great family, and it's always great to see former players become successful on and off the field and in the classroom."
Phil. 4:13 I can do all things through Christ which strengthens me [KJV].
That's Zack's favorite Bible verse and it oftens accompanies his social media post and text messages to family and friends. "He says that, he walks that, and he believes that," says Kim.