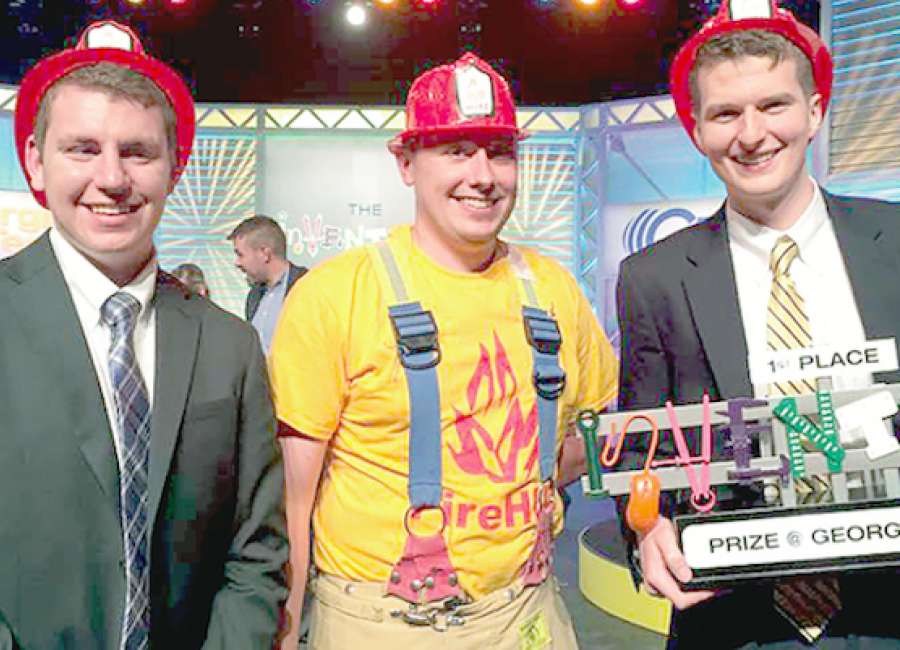 Northgate High School graduates and Georgia Tech students Zack Braun and Tyler Sisk took first place in the Georgia Tech Inventure Prize competition Wednesday night.

Braun, a computer engineering student, and Sisk, who studies electrical engineering, invented the Fire HUD – a wearable heads up display device for firefighters. The device tracks vital signs as well as external and internal temperatures, and sends that information to fire department incident command.
After several levels of competition, Sisk and Braun were one of six finalists. The finals were broadcast live Wednesday on Georgia Public Broadcasting.
The first place win comes with a U.S. patent and $20,000, as well as a spot in Flashpoint, a Georgia Tech accelerator that helps company founders think about their business model and formation.
Sisk and Braun will now move on to the Atlantic Coast Conference Inventure Prize competition. This is the first year for the ACC event, which will include inventors from 15 universities. It will be held at Ga. Tech April 5 and 6.
"We didn't really expect to win when we got out there," Braun said.
Braun said he "felt a little starstruck when I walked out on stage."
There was a live audience of 2,000.
"The bright lights, 2,000 people cheering when you walk out, it's kind of crazy to have to talk right after that!"
"We're really excited about the win," Sisk said. "We're still kind of in awe."
The live competition was a lot of fun, Sisk said. "We weren't going to be disappointed with any of the results," he said, but "we were glad we won."
The next steps are working on the patent and improving the Fire HUD. They want to continue working on the prototype to make it more rugged, Braun said. They've also been in contact with Scott Safety, a leading manufacturer of firefighting equipment.
"We're going to try to improve it and get it the point where we can send it off to a manufacturer and get it made and sell it," Sisk said.
Second place went to the team of "The Wobble," an automated balance test to assess athletes following concussions. They will receive a patent, $10,000, and a spot in Flashpoint.
The people's choice award, and $5,000, went to TruePani, an antimicrobial cup and water storage device that makes drinking water safer.
"We want to thank all the fans that came out to support us and our families for supporting us as well," Braun said.