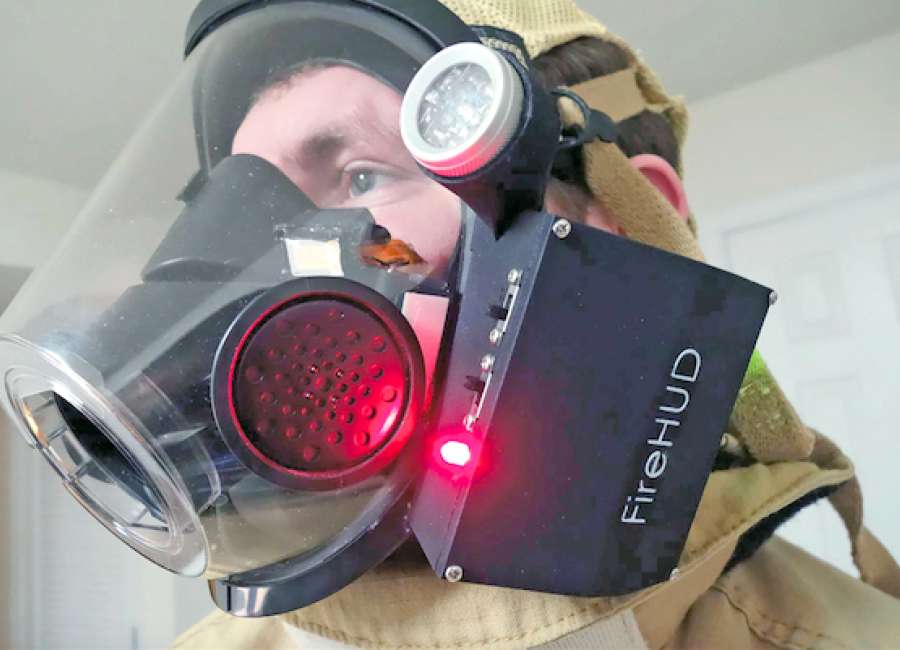 Northgate High School graduates Zack Braun and Tyler Sisk have invented a device to help firefighters track their vital signs while they are fighting fires.

The 'Fire HUD' - for 'heads up display' – attaches to a firefighter's breathing mask and measures heart rate, respiratory rate, blood oxygen level, the firefighter's body temperature, and the external temperature, and gives a compass heading. The HUD also transmits that information to the incident commander, who can view it on a computer through an app.
'We're still in the prototyping stage,' said Braun, a computer engineering student at Georgia Tech. The device is 'about the same size as a cell phone,' and there is a universal attachment that works with all masks made by Scott Safety. Scott supplies the vast majority of firefighter gear, Braun said.
'The number one cause of death for firefighters is sudden cardiac arrest,' Braun said. 'The number one injury is overexertion.'
Braun and Sisk, who is studying electrical engineering, are competing in Georgia Tech's annual 'InVenture Prize.'
The first place winner will receive a patent for their invention and $20,000 to go toward the business. Second place is $10,000 and a patent. There's also the $5,000 'people's choice' award.
There were initially some 60 teams competing. It's now be narrowed down to just six. The final competition will be March 16, and will be shown live on Georgia Public Broadcasting. The people's choice award will come from text and online votes during the March 16 event.
Started in 2009, the InVenture Prize is the county's largest undergraduate invention competition. It's been dubbed 'American Idol for Nerds.'
Braun has a long-time family friend who is a firefighter, and he and Sisk came up with the idea after a conversation with him.
'He was telling us what it's like to be in a fire, how chaotic it is. We had to come up with a way to help them,' Braun said.
Temperature sensors and compass headings aren't complicated things, Braun said. 'We thought if we could put them in a system the firefighter could actually use, it would be pretty beneficial.'
The biometric data is measured with a sensor that goes in the firefighter's ear, and the HUD itself uses a microcontroller. 'It's really a tiny computer,' Braun said.
Their first prototype was 'actually pretty bad,' Braun said. But their firefighter friend worked with them through a few revisions, and they came up with a version they were pretty happy with. 'Then we had a field test and made another revision and we're here with this current prototype.'
Early versions were 3-D printed. The current prototype is made out of Teflon and fiberglass, to withstand the extreme temperatures of a fire.
They recently took the prototype down to the Georgia Public Safety Training Center in Forsyth. 'They took it into a burning building and tested it out for us and everything went well,' Sisk said.
The test was during a livefire training event.
Though it is a heads-up display, it's not distracting. 'The screen is at the very bottom of their mask. They have to be really looking down to see it,' Sisk said.
'Nobody says it is distracting. Everybody says it's easy to read,' said Braun.
For the fall semester, Sisk and Braun were in a class called 'Idea to Prototype' and that's when they started making the Fire Hud.
'We like building cool things, I guess is the best way to put it,' Braun said.
They're hoping to win either first or second place, and get the Fire HUD into production.
'When we went down to the testing facility we got a lot of contact,' Sisk said.
'We've just started talking to Scott. Hopefully they'll help us,' said Braun.